Rega Planar 10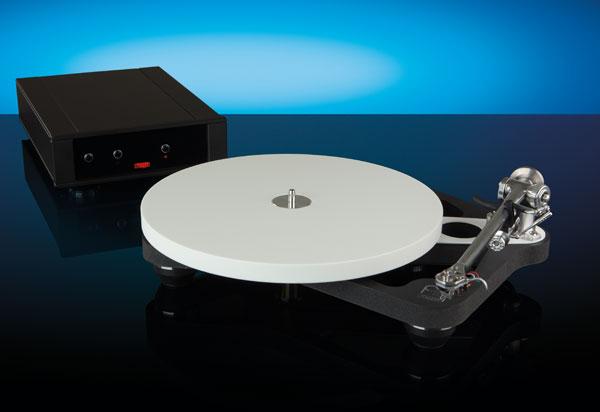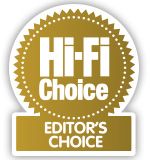 Audio specialist Rega has managed to re-energise its expansive range of turntables and keep us in a spin with a combination of intriguing and unexpected technical changes to its designs that are considerably more than simply a style makeover. At first glance, the Planar 10 (£3,600 without cartridge) looks remarkably similar to the genuinely radical Planar 8 introduced last year (reviewed HFC 443), but these visual cues hide an almost completely new turntable that continues to develop themes and practises from the company's flagship Naiad – the Essex-based company's custom design that's built in extremely limited numbers and represents something of a concept product and testbed for new ideas.
The Planar 8 already incorporates a good deal of the company's design thinking, but the Planar 10 is more ambitious in that it sets out to be an easier to produce representation of the Naiad at a more affordable price. To do this, the Planar 10 takes some aspects of the Planar 8 and mixes it with new components and materials. Although this isn't the first time Rega has employed ceramic elements in its design – both the preceding RP10 and P9 turntables utilised the material – the Planar 10 has a ceramic platter partnered to a ceramic top brace that takes the company's 'stressed beam' idea of maximising the rigidity between the bearing and arm board further than ever before.
This rigid ceramic top brace is combined with Rega's desire to eliminate mass from the rest of the turntable, which is a skeletal plinth of sandwiched Tancast 8 foam between two layers of high-pressure laminate similar to that found on the Planar 8. There are differences between the two – the bearing housing of the Planar 10 is a new one-piece bearing and sub-platter that is mounted in such a way as to eliminate vibration. A 24V motor is mounted to the plinth from the underside and the two components are joined by a pair of drive belts constructed from Rega's own EBLT rubber with a perfectly circular cross section. The Planar 10 has the same footprint as the Planar 8 and can be wall mounted using the same £135 bracket.
Evolving from its predecessor, the updated PL10 PSU uses a DSP-driven, crystal-based system to ensure accurate speed control. It's housed in a new casework design that shares some styling cues with the company's £3,000 Aethos integrated amplifier and gives electronic speed selection via buttons on the front panel.
Another significant update is to the tonearm. The RB3000 is visually similar to the preceding RB2000 with its striking aluminium and hand-polished finish, but it's an all-new design. The most significant difference is the bearing assembly that uses new construction techniques within micrometre tolerances, combined with a design that places the smallest number of mechanical joints in the arm. It's supplied with a relatively light counterweight as standard that works perfectly with the Apheta 3 moving-coil cartridge that's bundled and fitted as part of the £4,500 package as reviewed here, though a heavier counterweight is also available.
The attention to detail that's been lavished on the Planar 10 combines to create a turntable that feels at once familiar yet at the same time very different. It's solid and beautifully made while the extra refinements make it feel more special than its already exceptional Planar 8 sibling – the 10's tonearm in particular is a work of entirely functional art. It's practical too, thanks to the plinth's small footprint and ingenious dust cover that comes supplied.
Sound quality
Connected to a Cyrus Phono Signature phono stage (HFC 408), Naim Supernait 3 integrated amplifier (see p46) and Focal Kanta No.1 standmount loudspeaker (HFC 454), the Planar 10's sound emulates its looks with elements that are familiar interspersed with intriguing new developments. It's very much in keeping with Rega's turntable sound and is so effortlessly rhythmic that my pressing of The Comet Is Coming's Super Zodiac makes the digital streaming versions I experienced in last month's lossless streaming Group Test sound disjointed and choppy. The Planar 10 is utterly unflappable, and I don't think there's a time signature in existence able to unsettle it.
This deck is much more than a device to get the head nodding, however. Picking apart the influence of the ceramic components and that beautifully constructed tonearm is tough in isolation, but cumulatively, they amount to an effortless ability to take every nuance on a record and create a three-dimensional image that is so convincing that I feel I can walk around it. The complex and dense arrangements of Kamasi Washington's Harmony Of Difference are so effortlessly unpicked, it is only when you play it on a lesser turntable that you begin to appreciate just how astonishingly together it is.
The latest version of the company's Apheta moving-coil cartridge retains the virtues of its predecessor, but where the Apheta 2 could sound a little unforgiving with some pressings – at least when not partnered with the mighty Aura phono stage (HFC 446) – here it manages to keep almost everything sounding good. This still isn't the most tonally lush turntable and cartridge combination you can buy, but neither is it likely to see you leave any records on the shelf.
In fact, the Planar 10 has the ability to make you want to listen to long side-lined albums in order to see what it can do with them. The manner in which it sets about the eponymously titled album from the Brand New Heavies is a deeply impressive experience as this fine pressing positively sings. The tonality of the instruments is correct without ever being matter of fact. The rasp of the brass on People Get Ready is vibrant and entirely tangible. Everything bursts into life in a wholly convincing way and the interplay between the performers is completely compelling.
The cleverest part of the Planar 10's arsenal of attributes is that it never loses sight of the idea of musical joy being the main goal, but can also lay claim to being an analogue playback source that can be considered a reference. The challenging but wonderful pressing of Nils Frahm's Spaces is conveyed with a weight and presence to the piano playing and is flawlessly recreated as the Apheta 3 cartridge's incredible detail retrieval combined with the deck's naturally low noise floor is enough to unearth tiny details that turn the presentation into a captivating performance.
Conclusion
Given that the Planar 10 shares concepts and design ideas with the Planar 8, which was one of our favourite turntables of last year, it doesn't come as a surprise to see that this is something of a superstar. What is surprising, however, is that even allowing for the significant price increase, this is more of a leap forward in performance terms than the superficially similar appearance of the two models might suggest. It manages to deliver a performance that is outstanding even at the relatively lofty price point, and it does so while retaining the same joy and charm the company holds dear. The Planar 10 is a masterpiece and any owner will feel proud to have one of the company's finest achievements. ES
DETAILS
Product: Rega Planar 10/Apheta 3
Price: £4,500
Origin: UK
Type: Belt-drive turntable
Weight: 4.7kg
Dimensions: (WxHxD) 420 x 125 x 315mm
FEATURES
● Tancast 8 foam plinth surrounded by HPL casing
● Ceramic platter and brace
● RB3000 tonearm with optional Apheta 3 cartridge
● PL10 PSU with DSP control
Read the full review in
December 2020 issue 456

SPONSORED VIDEO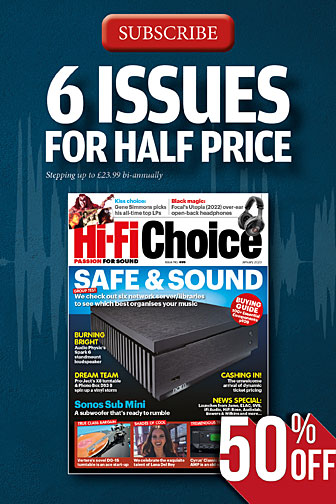 Inside this month's issue:

Six wireless speakers duke it out in our Group Test, Mitchell Acoustics' uStream Go portable Bluetooth speaker. HiFi Rose's RS250A AV streamer, Sumiko's Blue Point No. 3 MC cart and a World Exclusive first test of Q Acoustics' 5000 range