Rogue Audio Cronus Magnum III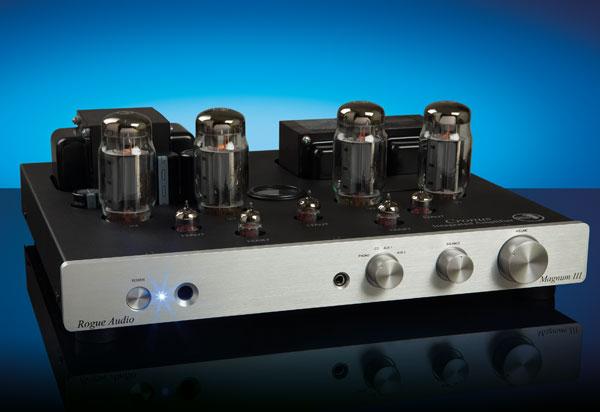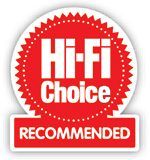 When introducing a valve amplifier to a hi-fi setup, something that is often automatically assumed is that the rest of the system will have to be adapted to fit around its low power output sensibilities. Many designs – particularly those at the more affordable end of the market – simply aren't capable of generating the power output levels necessary to drive demanding loudspeakers. Although we've seen a number recently – such as Copland's CTA408 and Icon Audio's Stereo 40 MkIV (both reviewed HFC 450) – that challenge this thinking, typically valve amplifiers need to be paired with more sensitive loudspeakers to realise their full potential. But for every rule there is an exception and in this case it takes the form of the Cronus Magnum III from Rogue Audio.
This is the only all-valve integrated amplifier in the manufacturer's range and uses a quartet of KT120 valves – itself a development of the KT88 beam tetrode. These are fairly powerful valves, able to deliver 60W of output power so the four here are being run relatively conservatively to generate a claimed power output of 100W into 8ohm, meaning it's capable of driving the majority of today's modern loudspeakers. If you don't need all that power, you can switch it from the standard 'ultralinear' mode to the 'triode' setting, which runs in lower-power single-ended mode.
This power section is mated to a valve preamp with a compliment of two 12AX7 and three 12AU7 valves. There are four inputs, three line-level and one phono stage input all via stereo RCA connections. The phono stage is usefully comprehensive with gain settings for both moving-magnet and coil cartridges, together with load adjustment to make partnering MC options especially a little simpler. The phono stage is an entirely solid-state design as is the company's Triton II MM/MC phono (HFC 447), which received a recommended badge for its rich and engaging sound.
While some of Rogue Audio's similarly priced competitors also have phono stages, an additional useful feature is the headphone amplifier stage. This is also solid state and is built around MOSFETs, so it can deliver a claimed power output of 2W.
The catch is that some of the features require a little more user commitment than many fans of plug'n'play solid-state designs might typically expect and is even beyond what many audiophiles would consider to be tweaky adjustments. The phono stage, for example, comes supplied set for moving-magnet cartridges and to change it to accept moving-coil designs requires the removal of 14 screws to access a selection of dip switches. While removing the lid from the casework would ordinarily invalidate any manufacturer warranty, Rogue Audio provides clear instructions on how to go about the adjustments yourself. Our advice is to speak to your dealer and get them to adjust it for you, should you require it.
The Cronus Magnum III is also one of a small number of valve amps I've tested that has manual biasing and comes supplied with a little adjustment tool clipped to the rear casework. Here though, this makes more sense. By allowing you to manually bias the quartet of main valves, you don't need to go for matched pairs or quartets because you can set each to output the same as the rest. The process is nicely outlined in the instruction manual and a link is detailed directing users to a handy Youtube video guide, and the voltage gauge fitted into the top plate of the casework helps to make it a fairly straightforward process.
This gauge and exposed valves and transformers give the amplifier an aesthetic that's different to almost anything else on the market – a protective valve cage is available for an extra £200. It feels less like an amplifier and more like a piece of equipment from a yesteryear R&D project and I really like the design and how well made it is. It feels like an audio component that will last forever and this extends to details like the all-metal remote control, nicely weighted front panel source selector, balance and volume controls. The only minor frustration is the unmarked polarity of the speaker terminals.
Sound quality
Any niggles with the setup soon evaporate once you start listening. It is a rare pleasure to run my relatively insensitive Neat Momentum 4i floorstanders on the end of a valve amp and the result is extremely satisfying. This is unquestionably a valve amp in the way it performs – I don't believe that Rogue Audio set out for it to sound any other way – but thanks to the power in reserve, it manages to have a level of drive and authority that gives it traits you might more commonly associate with solid-state designs.
The 24/96 Qobuz stream of The National's You Had Your Soul With You demonstrates this to wonderful effect. With a SOtM SMS-200 Neo network audio player (HFC 449) and Chord Electronics Hugo 2 DAC (HFC 425) acting as a neutral source for it, the Cronus Magnum III is still a big, lush and wonderfully invigorating performer. Voices leap out of the mix, not because there is any unnatural emphasis to them, but simply as they are startlingly vivid. There is an effortless three-dimensionality to the music with the relationship between the performers feeling utterly self explanatory. As I close my eyes, the music is happening in a meaningful fashion right in front of me.
Some of this vitality stems from the sheer amount of headroom available. With 100W on tap and enviable reserves of current to back them up, the presentation feels effortlessly muscular. At entirely anti-social levels there is some sense of things hardening up slightly, but for more normal use it delivers even large-scale and dynamic recordings without any feeling of constraint. This ensures that all the desirable valve amp attributes – which the Rogue Audio has in spades – continue to be present at levels that are far in excess of what you might more normally expect.
Where it really builds on these abilities is that the punch and timing on offer is deeply impressive for an amp of any topology at the price, let alone one that is delivering upper registers with the sweetness of this one. Switch to the stark, savage electronica of Helena Hauff's Qualm and the Rogue is simply outstanding. The fizzing, crackling bass line of The Smell Of Suds And Steel is delivered with authority and perfect snap and drive. I'm sure that for most fans of this sort of music, an amp that looks like this is not going to be the natural choice, but it's one that certainly delivers the goods.
Moving back to more conventional genres and timing is still suitably impressive and it has an energy and punch that makes for a brilliant listening experience. Magic Sam's I Feel So Good (I Wanna Boogie) is effortlessly funky. He is no longer just an element of the recording, but a tangible entity at the front of the soundstage with his impetus driving the music on. Combined with a top end that sympathetically deals with the slightly ragged treble of this legendary recording, the result makes for a compelling listen.
Even when I switch down to triode mode and introduce a slightly more straightlaced Spendor A1 standmount, there is still an energy present that really draws you into the performance. You also get a midrange that graduates from lush to positively verdant. The hauntingly lovely Shadow Queen by the Alba Griot Ensemble has rarely sounded as good as it does here. I suspect that with a less neutral source and speakers, you could easily have too much of a good thing, but partnered with any care it's a lovely listening experience.
The moving-magnet phono stage is also very talented. Connected to a Michell GyroDec, SME M2-9 tonearm and Nagaoka MP-200 cartridge (HFC 434), the Rogue keeps the essential balance of its performance. It presents Marina's Soft To Be Strong with its customary vividness. Diamandis' perfect vocal turn is incredibly dynamic and vivid and it is underpinned by a bass weight that is never less than wholly convincing. All the basics are well handled too with a pleasant absence of noise at idle and decent resistance to surface noise.
The headphone amp is clearly more than an afterthought. Listening via Audio-Technica's ATH-A2000Z headphone (HFC 412), the presentation isn't quite as effortlessly real as it is via the loudspeaker outputs, but it is a very entertaining and engaging listen all the same.
Conclusion
Living with Rogue Audio's Cronus Magnum III integrated valve amplifier is undoubtedly more involved than many other £3,000 amps. Thanks to the casework design and lack of protective cage it could never be described as child or pet friendly and making any internal adjustments is best left to authorised professionals. The payoff, though, is one of the most compelling sonic performers I have tested at this price point. By combining a real-world power output with considerable care and attention to detail, the result is a truly wonderful amplifier and one that should have wider appeal than stereotypical valve customers. ES
DETAILS
Product: Rogue Audio Cronus Magnum III
Price: £3,000
Origin: USA
Type: Integrated amplifier
Weight: 25kg
Dimensions: (WxHxD) 457 x 171 x 444mm
FEATURES
● Quoted power output: 2x 100W (8ohm)
● Output valves: 4x KT120
● Preamp valves: 2x 12AX7 and 3x 12AU7
● Inputs: 3x stereo RCAs
● MM/MC phono stage
Read the full review in
July 2019 issue 451

SPONSORED VIDEO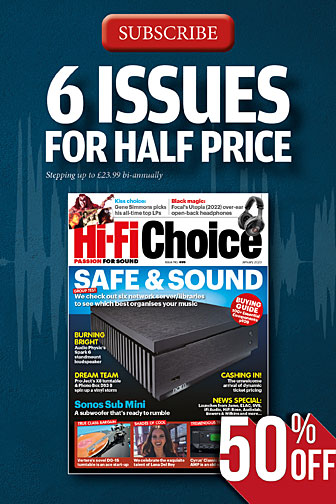 Inside this month's issue:

Six wireless speakers duke it out in our Group Test, Mitchell Acoustics' uStream Go portable Bluetooth speaker. HiFi Rose's RS250A AV streamer, Sumiko's Blue Point No. 3 MC cart and a World Exclusive first test of Q Acoustics' 5000 range