Sony UDA-1 - £499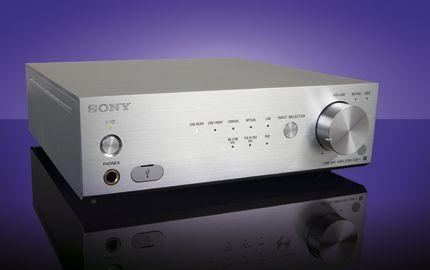 Andrew Simpson asks if this mini DAC/amp marks a return to form for the daddy of digital audio
Look who's back. And with a new range of dedicated separates aimed at bringing hi-res to the audiophile masses, it clearly means business. Given that Sony is the company that co-created CD's original Red Book standard and put the 'S' in S/PDIF, it's safe to assume that its new products will be based on a legacy of digital audio development.
This new range is also sensibly streamlined, with a handful of carefully considered separates spread across distinct product categories. There are the high-end TA-A1ES integrated amp and HAP-Z1ES media player, each costing £2,000 each. While at the more affordable end of the market sit a couple of Astell&Kern-rivalling hi-res Walkmans and the UDA-1 you see before you.
Despite its meagre proportions, the UDA-1 is a versatile little unit that is essentially a mini integrated with an onboard DAC. It sports a range of digital inputs, including USB and S/PDIF, shared over coaxial and optical inputs. There's also a line-level analogue input, a set of loudspeaker outputs and a 6.3mm headphone jack, which auto-mutes the speakers when in use. Add to this a line-level output and you have a great-value starter product that you can build a system around, as funds allow.
As you'd expect from the Japanese company that helped give us SACD's hi-res DSD protocol, the UDA-1 welcomes the most demanding audio formats. It happily accepts up to 24-bit/192kHz over its S/PDIF and rear USB socket (its front USB input is limited to 48kHz) across a range of file types including WAV, FLAC, ALAC and, naturally, DSD. And for those of us that dabble in a bit of MP3 streaming for the sake of convenience, the Digital Sound Enhancement Engine (DSEE) is on hand to help by claiming to restore high frequencies lost in compression and improving sound quality (see the Q&A boxout overleaf).
The UDA-1's DAC section is based around a finite impulse response (FIR) filter design and Sony has also specified acoustically tuned capacitors, an EI type transformer and newly developed carbon resistors for the amp's internals.
At 4kg it feels brick solid. And the way its 3mm-thick brushed alloy front fascia folds seamlessly into its top panel looks slick. The few controls adorning its front-panel are exceptionally well finished for hi-fi kit at any price, and hark back to Japanese stereo's glory days. Okay, the side-cheeks are plastic, but you can't tell unless you're up close. As well as a large volume knob, power and input selector buttons, the front panel also hosts blue LEDs, denoting your selected input and incoming sample rate, for streams of 88.2kHz and above, although hardcore audiophiles may baulk at sample rates of 88.2/96 and 176.4/192 being shared over the same LEDs. Either way, you'll need good eyesight to see what sampling rate ball park you're in, as the front panel's typography is really quite small.
Perhaps to help keep its dimensions compact, instead of flanks of passive heat sinks, the Sony comes equipped with an internal fan, which exhausts through its rear panel. Although I can't hear the fan in action or feel any vibration when touching the unit's casework, I do detect a very slight hum when the Sony is sat atop a hollow bookcase. Slipping a set of aftermarket sorbothane feet under its standard tootsies puts pay to this, as does moving it to a dedicated shelf within my solid oak hi-fi rack.
Setup is plain simple. Once hooked up to my laptop via USB, I'm prompted to install Sony's software, which takes a few seconds. Hitting play in iTunes tells me I'm connected, as the music begins to flow through my speakers. There's no fuss or lengthy manual of tedious set-up configurations to drag yourself through and once up and running, the credit-card sized remote controller is joy to use.
Sound quality
The UDA-1 is a clean and consistent performer, that sits back and lets your speakers do the talking, without imparting too much of its own character. Hooked up to my laptop and feeding a pair of Q Acoustics 2020i bookshelf speakers it looks and sounds right at home. And as a discreet desktop add on it does a dandy job of turning a computer into a credible hi-fi source. I'm pleasantly surprised with how its front panel USB input sounds more than adequate when streaming a touch of Van Morrison from my smartphone, although to get the best out of it you should introduce it to some higher quality digital delights.
Not that the UDA-1 turns its nose up at the types of lossy formats it will most likely be called into duty to serve for many a listener. Justin Rutledge And The Junction Forty's Too Sober To Sleep heard at a lowly 256kbps obviously lacks the levels of enticing detail and finesse that its FLAC alternative boasts, but with the Sony operating in DSEE mode, instruments within the track gain more air around them, compared to having DSEE switched off. This filter is a useful tool for improving MP3 type audio, by making it sound less hollow or opaque.
The DSEE's affect is also particularly noticeable through the headphone jack with the Rutledge album. While engaging the DSEE doesn't increase the music's sense of realism, it does push instruments deeper into the soundstage and helps to smooth sibilant edges. In this respect, the DSEE's affect is like switching to a more dynamic and open-backed set of headphones.
Feeding the UDA-1 with better quality material makes the DSEE filter's contribution less obvious, and the music begins to sound more natural with it switched off, when streamed at CD-quality levels. With my CD player's S/PDIF supplying the UDA's coaxial socket with a 16-bit/44.1 recording of Terry Callier's Dancing Girl, the DAC gets into boogie mode. The soundstage seems a little deeper than it is wide, with the higher frequencies achieving a more panoramic scale than the midband's notes. While the UDA-1 ensures Callier's rhythm section nails the track's timing, bass and percussion stay well within the confines of the speaker plane. Although I'm guessing this is an intentional trade off to prevent the UDA-1 from spreading itself too thinly if attempting to push the soundstage's boundaries.
Although its sound is relatively contained, the performance is graceful across the frequency band, which makes it an easy listen. Changing the mood with Goldfrapp's Tales Of Us at 16/44.1, the final Clay track is void of digital harshness, and the resulting sonics ebb and flow from the speakers in mellow waves of an analogue nature. Timing is spot on, and the UDA-1 lets the track's progressive tempo become alluringly addictive. Bass sounds surprisingly weighty too, given the amp's modest 23W, although this track also reveals slight blurring in the lower frequencies.
With its line-outs feeding my Musical Fidelity M6 pre/power amps and Audiovector floorstanders, the Sony's mettle is put to the test. You'll note I'm using its line-outs to drive my M6 preamp instead of connecting it directly to the M6 power amp, because, despite the volume knob governing its speaker and headphone outputs, its line-level output is fixed and, therefore, unaffected by the UDA-1's volume control. So don't be fooled into trying to use it as a preamp to directly drive a separate power amp, unless you get kicks from exploding loudspeakers.
Streaming a 24/96 FLAC of Mark Knopfler's Privateering via this setup shows that it doesn't feel the pressure when partnered with kit picked from a few rungs further up the audiophile ladder. While I can clearly hear the contribution of the MF amps as they drive my speakers with greater authority than the Sony's inbuilt amp can muster, the quality of its hi-res DAC shines through.
Knopfler's brooding vocals on Redbud Tree sound convincingly dense, with a dollop of Dylanesque nasal character. Equally engaging is the sound of the lead guitar, which has just the right amount of sustained echo as it falls back into the soundstage, emphasising the virtues of hi-res recordings done properly.
Conclusion
As an introduction to the world of hi-res replay, the UDA-1 is a great value integrated starter package, with a DAC section that's ripe for feeding a grander system. Sound wise it's not a particularly bold performer and while some may crave more excitement, it provides a fatigue-free listen for long-term enjoyment.
LIKE: Solid build; 192 and DSD playback; pre-out
DISLIKE: Slight lack of bass grip; internal fan
WE SAY: Great-value integrated with a classy DAC section and fuss-free setup
DETAILS
PRODUCT Sony UDA-1
ORIGIN Malaysia
TYPE USB DAC amplifier
WEIGHT 4kg
DIMENSIONS (WxHxD) 225 x 74 x 262mm
FEATURES
• In-built 2x 23W amplifier
• USB, S/PDIF and analogue inputs
• Support for ALAC/FLAC/WAV/AIFF/MP3/AAC/WMA up to 24-bit/192kHz
• DSD support
DISTRIBUTOR Sony Europe
TELEPHONE 020 73652413
WEBSITE sony.co.uk

SPONSORED VIDEO
Inside this month's issue:

Our 500th issue reports on the Bristol Hi-Fi Show, April Record Store drop, Rega's Elex MK4 integrated amp, Tangent's PreAmp II and Power Ampster II, a high-end headphone group test and much, much more