Denon, DNP 720AE - £300

Denon gets on stream
Denon has entered the network audio player market with an inexpensive, iPod-friendly player. Malcolm Steward streams his tunes
The Denon DNP-720AE is quite a late arrival at the network player party, but it compensates for its tardiness by bringing with it a genuinely useful gift: Apple Airplay, to cater for those who keep their music library in iTunes and that is an extraordinarily large group of people.
Despite the number of services and features it offers, the appearance of the player is delightfully simple. The fascia contains only an on/off button, a push button for input selection, a rotary cursor control, which will be familiar to iPod users, and a centrally mounted, three-line, Organic Electroluminescence Display.
Slight Restrictions
In terms of features, the DNP-720AE is not as thoroughly equipped as its Denon and Marantz stable mate, the Marantz NA7004. For example, the DAC in the DNP-720AE is not available to external components and it is restricted to playing 24-bit/96kHz files and below; the NA7004 DAC will connect to other sources and work up to 24-bit/192kHz.
The DNP-720AE can handle MP3, WMA, AAC, FLAC up to 24-bit/96kHz and WAV files, so it covers the main popular file formats at the moment. It, like the NA7004, gives users UPnP/DLNA access to network music stores on NAS drives, HDD servers and computers, internet radio, and Last.fm and Napster services where available. It also offers AM/FM (RDS) radio and can play music from an iPod/iPad or iPhone through its USB port, or wirelessly by means of Airplay. It uses the same port to play music directly from a USB drive or memory stick.
Other options
Users can control the DNP-720AE with the front panel display and buttons, the remote control handset supplied with the unit, or with our favourite method, the Denon Remote App for the iGadgets. The latter gives by far the best access to your listings and makes finding and playing a particular track much easier and quicker than the other options.
The DLNA- and Wi-Fi-certified unit is attractive to behold and built to the standard one expects of a player at this price. Denon says it has minimised the internal circuitry and shortened the signal paths to deliver optimised sound quality. Two outputs are available: an analogue RCA connection and a digital TOSLINK output.
Reassuringly rhythmical
The DNP-720AE sounds lively and pacy with acceptable detailing on the 16-bit/44kHz Luka Bloom album, Acoustic Motorbike. It gives a similarly enjoyable performance on Shawn Colvin's easy-going, but upbeat album, A Few Small Repairs, sounding confidently tuneful and reassuringly rhythmical. Soundstaging is realistically portrayed with reasonable front-to-back depth evident. The performance allround improves noticeably when we switch to 24-bit/96kHz material.
However, on more demanding music, the Denon appears a little handicapped by its seemingly inadequate power supply. Some instruments, such as John Cale's piano on the Fragments of a Rainy Season album, for example, sound watery and lacklustre with scarce low-end weight and substance.
It certainly seems to lack suffi cient muscle to cope with the orchestral and percussive demands of Varèse' Ameriques and Ecuatiorial. It manages low-end information better here than we expected, but lacks conviction and authority though the mid and upper frequency range on this challenging recording.
Curate's egg
The DNP-720AE seems to be a curate's egg that would most likely be best suited to someone getting started with a networked or computer-based audio system. It will play CD-resolution and 24-bit/96kHz rips, along with internet radio. Anyone wanting more performance might want to look at, say, sister company, Marantz's NA7004.
Be sure to shop around carefully, though, as the lower end of the networked audio market is becoming ridiculously (in the literal sense of the word) competitive.
LIKE: The elegant simplicity of the unit is appealing
DISLIKE: Performance should be more consistent and predictable
WE SAY: Performance can be good, or not so good, depending purely upon the music you play

PRODUCT:
Denon DNP-720AE
ORIGIN:
China
TYPE:
Network audio
player
WEIGHT:
2.9 kg
DIMENSIONS:
(WxHxD) :
434x704x300mm
FEATURES:
• Network set-up
wizard
• Connections for
FM and AM aerials
• Internet radio
configuration
through radiodenon.
com (vTuner)
• Five-stage
dimmable display
• Party mode: one
source and four
player components
work together
DISTRIBUTOR:
Denon UK
TELEPHONE :
02890 279830
WEBSITE:
denon.co.uk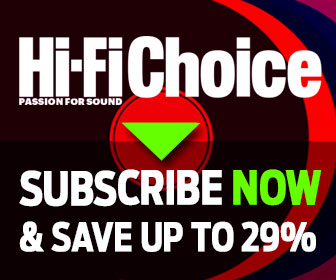 Inside this month's issue:

Hegel's V10 phono stage, iFi Audio Diablo DAC/headphone amplifier, VPI Prime 21+ turntable, System Audio's Legend 5.2 Silverback standmount, high-end headphones Group Test and much, much more...
Standout tracks from our
Music Reviews
section, plus our current favourites to play in the
HFC
office.