Elipson MC1 - £1,300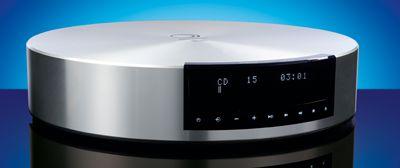 In the round
Elipson's one-box Music Center MC1 is a striking piece of design. Ed Selley finds out if it has a well rounded sound to match its looks
Our first introduction to the recently invigorated Elipson was via the remarkable looking Planet L speaker (HFC 350). Any manufacturer whose idea of a standmount speaker is a brightly coloured sphere the size of a bowling ball is unlikely to release its partnering electronics in an ordinary box and Elipson hasn't disappointed us.
The Music Center MC1 is, as the name suggests, an all-in-one system. It boasts a striking appearance, which comprises a disc-shaped chassis, roughly 80mm tall, and perfectly circular when viewed from above. Finished in brushed aluminium, this is a very smartlooking piece of kit and thankfully, like the Planet, the engineering within makes it more than simply a visual statement. And while it isn't circular for the same reasons as the Planet is spherical, the Music Centre has been designed around the contents rather than the other way around.
ICEpower
Under the lid is a CD mechanism, DAB/+, FM/AM tuner and a 60-watt amplifier. It makes use of Bang & Olufsen's ICEpower Class D modules for the power section. These are increasingly highly regarded and bode well for performance.
Around the back (neatly concealed under the top plate so as not to spoil the lines) are two additional line inputs, an optical input and a USB socket. The latter is able to replay MP3 and WMA fi les via a stick, but is also supplied with a dongle that allows you to place the MC1 on a wireless network and replay files from an appropriately set up computer. A minor disappointment is that the same dongle cannot be used to access internet radio services.
This is an impressive feature set for the £1,300 asking price, but the MC1 has one final party piece. An optional Kleer wireless module is available that attaches to the bottom of an iPod, iPad or iPhone and allows for lossless audio streaming from the Apple device; the Kleer technology has a bandwidth suffi cient to allow for lossless audio to be transferred. With the module in the bottom of the Apple device, the volume control will also control the loudness of the Music Center, albeit in larger steps than via the dedicated remote.
The fit and finish is very impressive. The brushed aluminium is very smart and the front display, which also incorporates the inhaler mechanism for the CD and controls, is clear and easy to read. The speaker terminals are sturdy WBT-type connections that can handle even very substantial types of speaker cable without issue.
The controls on the front of the unit are a touch-panel-type connection and work extremely well. We are less sold on the remote, though, which is a slim affair that is rather button-heavy and doesn't feel as slick as the unit. Another minor control gripe is that, as with most devices that don't have a physical volume knob, it is hard to quickly make a large adjustment of volume.
Elipson is obviously keen to sell the MC1 and the Planet L as a package (indeed they are available as such) and there is much to be said for this combination in aesthetic terms, as the result is a world away from the stigma of black boxes and hassomething of a 'world of tomorrow, today' in its appearance. The useful power output of the MC1 does mean that choices of partnering speaker are pretty wide and not limited to the in-house type if the combined visuals are a bit much.
Ready to go
Once set up on a wireless network – a process that is fiddly rather than actively difficult – the MC1 is ready to go. We decided to start with CD and this revealed that the drive mechanism is a little on the noisy side, making a distinctive 'chirrup' when the disc is loading and being audible when the disc is spinning – if you are close to the unit. This aside, first impressions are good. The MC1 is stylish, but there is substance to it, too.
An assured performer and very even from top to bottom, there is no sense of any particular part of the frequency range being unnaturally boosted or held back. This can leave you initially thinking that the presentation is lacking excitement, but longer listening reveals that what you are hearing is, in fact, very honest and matter-of-fact. This positively encourages longer listening sessions due to the extremely unfatiguing nature of the sound.
The MC1 also has excellent detail retrieval and an impressive soundstage. Complex material is easy to follow and there is a real sense of the space the recording was made in. Timing and pace are also impressive and even very high-tempo music retains a sense of composure. Even pushing the unit towards the top end of its power output doesn't bring on any real harshness or stridency, which is an unusual and considerably impressive achievement.
Replaying lossless files from a laptop has the same very benign sonic qualities as the CD drive and is free of interruption or drop out. The MC1 is also relatively forgiving of compressed material and remains listenable even with comparatively small files. The only downside we can see with the dongle is that it was not possible to make the Music Center communicate directly with a NAS drive, which means for anybody streaming audio, they will need to have a computer powered up all the time.
Impressive addition
The Kleer iPod connector is an impressive addition. What we especially liked was that it will send the audio signal from an iPhone, even if you don't have the official iPod section open. This means that Spotify, Internet radio and even the soundtrack from Catch Up TV will be happily reproduced. Not all of these services offer equally fantastic sound quality and it serves to remind you that TV services are ferociously compressed, but as with such files on the laptop, the MC1 will try and keep material listenable for as long as it can. This gives the unit some additional features it wouldn't otherwise have and keeps the iPhone to hand rather than stuck in a dock. You can also use the phone for other tasks, while it continues to stream material. Again, in use, we experienced no dropouts or interference.
The radio is probably the weakest area of a very strong product. Reception is satisfactory, but it proved hard to get a completely silent signal on FM and the DAB side was unable to locate some stations that a PURE Classic was able to receive in the same building. That said, it found the national stations easily enough and, if you intend to do the bulk of your listening via CD or digital media, the tuner would be perfectly satisfactory for incidental listening. Given how impressive reception is via the dongle, it does further emphasise how useful internet radio would have been under the circumstances.
A star turn
The MC1 is something of a star. For £1,300 it offers an attractive aesthetic with a result that is in many ways close to the performance of separates costing a similar price – especially if divided over the range of features it offers. Above all, it feels cohesive and well thought out – functionality is simple enough to understand and everything works in a consistent way.
If you're searching for a product that looks smart enough to sit on display in the most elegant of rooms, while not compromising on the audio performance, Elipson has delivered the goods.
LIKE: Excellent sonic performance and good feature set
DISLIKE: No internet radio and slightly noisy CD mechanism
WE SAY: Combines a stylish appearance with excellent performance credentials


PRODUCT:
Elipson Music Center
MC1
ORIGIN:
France/China
TYPE:
One-box streaming
hi-fi system
WEIGHT:
3.8kg
DIMENSIONS:
WxHxD
330x78x330mm
FEATURES:
• CD replay with MP3
and WMA playback
• DAB/FM/AM
internal tuner
• USB Input
• Wireless dongle
• Optional Kleer iPod
connector
DISTRIBUTOR:
BBG
TELEPHONE:
01925 205605
WEBSITE:
elipson.com

SPONSORED VIDEO
Inside this month's issue:

Our bumper collection of the best kit to pass through the HFC test lab over the last 12 months is here to help you pick from essential turntables, speakers, amps, DACs, streamers, DAPs, headphones...
Standout tracks from our
Music Reviews
section, plus our current favourites to play in the
HFC
office.