Gold Note IS-1000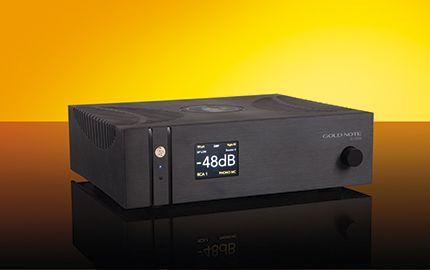 An impressively ambitious Italian super integrated network music system that plays it with style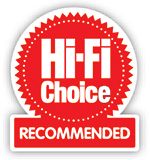 Billed as the 'complete all-in-one super integrated amplifier', Gold Note's IS-1000 is an ambitious design to bridge the gap between a traditional standalone integrated amp and an all-in-one music system with network streaming in an almost imperceptible way. At its heart it's an integrated amplifier with a Class A/B output section, claiming a healthy 2x 125W into 8ohm that doubles to 250W into 4ohm. The model reviewed here is priced at £3,820, but if your setup demands even greater power Gold Note offers a 2x 150W output version into 8ohm, taking the cost to £4,370.
Connectivity is impressive and analogue sources are catered for via three inputs; one via XLR and two using RCA phonos. The first of the RCA connections can be used as a conventional line-level input or as a phono stage input for a turntable and configured for moving-magnet or moving-coil cartridges – the circuity for which is derived from the company's flexible PH-10 phono stage (£1,150).
Digital inputs are catered for via one coaxial and three optical connections. These make use of a Burr-Brown PCM1796 DAC chip, and support decoding at sample rates up to 24-bit/192kHz across all inputs (a higher-spec PCM1792 option is also available for an extra £680). This is joined by a USB Type-A port that will read PCM files up to 24-bit/192kHz and DSD64.
As well as being a hi-fi hub for all your audio sources, the IS-1000 also includes a streaming module which can connect to your network wi-fi or wired via an Ethernet port, and just like the digital inputs it supports network audio at sample rates up to PCM 24-bit/192kHz and DSD64. You also get native access to a range of streaming services including Tidal, Qobuz, Deezer, Spotify and internet radio via vTuner, while AirPlay protocol support is also on board.
For this review, control is handled via the third-party mconnect control app. While it has some niggles, it is quick, stable and easy to use – Gold Note isn't the only company to use it (see How It Compares). A Gold Note app is in development and due for release soon.
Tying the functionality together is a control interface that lurks somewhere between clever and idiosyncratic. It uses the dial on the front panel as a push-and-turn control to scroll through and change settings on a large colour display. Once you get to grips with it the effect is pleasingly slick, but the lack of any direct input selection is a little irritating as I find it too easy to leave the input selection highlighted and inadvertently select another input when wanting to adjust the volume.
There is a remote, but it's small and not terribly responsive, which is a bit disappointing, although the IS-1000 is designed to be controlled via its own app on iOS and Android devices. The casework of the unit is absolutely lovely and the curved ventilation slots either side of the Gold Note logo are nicely judged at the asking price. It all manages to look and feel special and build quality is generally excellent.
Sound quality
Connected to a pair of Dynaudio Special Forty standmounts (HFC 434), the IS-1000 shows some behavioural characteristics in common with the company's Valore 425 Plus turntable (HFC 424). While it can be easy to stereotype Italian audio products as smooth and mellifluous, this isn't the Gold Note way. Instead, it majors on scale and drive to great effect. Listening to the 16/44.1 download of GusGus' Lies Are More Flexible, the performance with the epic Fuel is very impressive. There is a sense of a vast unfettered soundstage that extends in front of and well beyond the listener. Despite the scale, the positioning of instruments and effects is accurate and unerringly consistent.
This is backed up by an effortless sense of power and drive that benefits less potent music as well as it does electronica. Ray LaMontagne's Repo Man has the impact required to convey the vigour and energy of the band's performance. Again, there is a sense of order and positioning that helps you to close your eyes and be 'there' in a way that some rivals struggle to match. Equally impressive is its honest and believable tonal realism that complements pretty much everything you choose to play, and there's enough of a slight gravel in the vocals that it becomes a tangible part of the performance supported by instruments with genuine weight and decay.
There is an impressive sense of rhythmic energy to the way that the IS-1000 goes about making music and it engages on an emotional level too. The 24/88.2 download of Kraftwerk's Minimum-Maximum benefits from this impressive sense of flow and drive and the Tour De France suite of tracks positively hammers along. There is no sense of overhang to the rapid-fire bassline and combined with the depth and impact that it extracts from the Dynaudios, the result is tremendously entertaining. This feeling of agility isn't dependent on there being a heavyweight bassline either. The lightning-fast guitar of The Sword's Used Future is also relayed with all the frenetic energy very much intact.
Perhaps unsurprisingly, the digital inputs closely match the performance of the streaming module. The decision to go with a Burr-Brown DAC has the very definite subjective benefit of the digital front end having a pleasing sense of refinement and a slight tonal darkness that makes this an easy product to listen to for long periods of time. It isn't always perfect; listening to the beautifully recorded 24/96 FLAC of The Chopin Project by Ólafur Arnalds and Alice Sara Ott there is the feeling that the piano lacks the last fraction of energy and sparkle that this beautiful work can benefit from. The counter to this is that the IS-1000 gets stuck into some lesser quality recordings and handles them in a manner that keeps me listening along happily rather than leaving me feeling fatigued.
Coming from the company's dedicated upmarket preamp, the phono stage feels well engineered. Connected to a Michell GyroDec with SME M2-9 tonearm and van den Hul DDT II special moving-coil cartridge (HFC 425), the basics are all in place. There is no background noise, while the plentiful gain on tap ensures that the performance has a real sense of dynamic range to it. This allows Yazz Ahmed's La Saboteuse to rise out of the extremely quiet background of the record with no discernible sense of amplification or processing taking place. Compared with my standalone Cyrus Phono Signature MM/MC phono stage (HFC 408), the internal stage of the IS-1000 lacks the last fractional ounce of bass weight, but for a built-in preamp it offers strong performance and can usefully be switched out if you find you need that RCA input for a line-level component.
Conclusion
One of the most important and overarching aspects of the IS-1000's performance is that it feels like a single cohesive unit rather than a collection of elements partnered together in a nice-looking box. The way it carries out its extensive functionality is sufficiently homogenous once you are dialled into the control system that you can happily make use of everything it does to form a very capable music system indeed. This isn't a traditional integrated amplifier, but one that reflects the requirements of audio enthusiasts in 2018, and if you are looking for an amp with a built-in network music streaming source, it makes a great deal of sense. ES
DETAILS
Product: Gold Note IS-1000
Price: £3,820
Origin: Italy
Type: One-box system
Weight: 18kg
Dimensions (WxHxD): 430 x 135 x 375mm
FEATURES
● Claimed power output: 2x 125W RMS (8ohm)
● 24-bit/192kHz PCM and DSD64-capable DAC
● UPnP streaming; AirPlay
● Digital inputs: 3x optical; 1x coaxial; 1x USB-A
● Analogue inputs: 2x RCA (1x MM/MC switchable); 1x XLR
● Integrated Tidal, Qobuz and Spotify streaming
Distributor: Audio Pinnacle Ltd.
Telephone: 01420 544140
Website: goldnote.it

Read the full reveiw in May 2018 issue HFC 436

SPONSORED VIDEO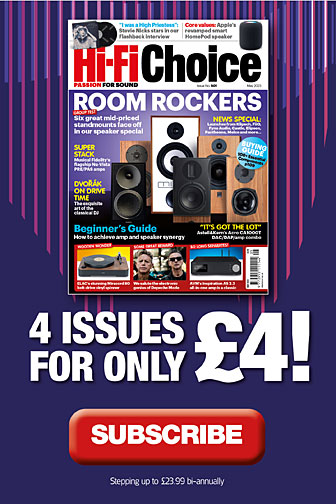 Inside this month's issue:

Klipsch R-50PM powered loudspeaker, DS Audio Grand Master Extreme cart, Astell&Kern A&futura SE300 portable music player, Elipson Legacy 3230 floorstanding speaker and our round up of the best music streaming services