Mass Fidelity Core
The compact wireless loudspeaker that packs a mighty punch
To say that the Core is a little speaker that packs a big punch is something of an understatement. It's not without flaws, but the sheer power, audio quality and versatile high-tech features that Mass Fidelity has crammed into this little black box are undeniably impressive.
Measuring just 150mm wide and deep and 100mm high, it will sit comfortably on any shelf or table without taking up too much space. It's a little chunky to carry around in a backpack – not to mention fairly heavy, at around 1.5kg – but it does include a rechargeable battery so you can easily carry it from room to room at home, or take it out to the garden. Listening to the Core over a long bank holiday weekend gives about 10.5 hours of battery life – a little short of the 12 hours quoted, but that should be fine for a speaker that will mostly live indoors.
Well connected
Bluetooth is the main option for connecting to your mobile devices – along with aptX support – but tucked around the back of the Core you'll find a standard 3.5mm aux-in, as well as S/PDIF optical input. There's also a USB port for charging your mobile using the speaker's internal battery and a connector for Mass Fidelity's optional Core Sub subwoofer, which is available for £249. Core can also act as a wi-fi router allowing you to set up a multi-room system with up to nine Core speakers without requiring an existing wi-fi network or router.
It is also very, very loud. In fact, the 120W amplifier that Mass Fidelity has managed to squeeze in makes it the most powerful speaker of this size. Most of the time I am happy to listen to my music at only around 30 percent of the speaker's maximum volume, so there's certainly plenty of power available if you need it.
I find it hard to fault the sound quality when listening at medium volume, and it delivers a clear, balanced sound that works well with a variety of my 256kbps (16/44) AAC music files, ranging from acoustic ballads to eighties Hi-NRG and noughties guitar-rock. The bass tends to be a little boomy rather than tight and punchy, but it's still very respectable for such a compact little speaker and, of course, there's the option of that separate subwoofer if you want to pump up the volume.
But here's where the power of the Core starts to become a mixed blessing. Increasing the volume doesn't cause too many problems with songs that have relatively sparse arrangements. Damien Rice's acoustic strummings sound great at any volume, and the breezy disco synths of Jimmy Somerville's You Make Me Feel (Mighty Real) are hard to resist as you crank up the volume. However, I find that music with a denser sound can lose clarity at higher volumes, and the compact box sometimes sounds as though it is struggling to contain the thrashing guitar of The Sharpest Lives by My Chemical Romance, or the throbbing bassline of Kylie's Can't Get You Out Of My Head.
Mass Fidelity also gets a bit carried away with the hype at times. It boasts that the Core produces "holographic sound" that is "better than stereo". Shorn of the techno-babble, this means that its five drivers radiate sound all around the speaker, eliminating the sweet spot between the left and right channels of a conventional stereo system.
Floor filler
To be fair, it creates an expansive soundstage that fills the room, yet it still can't match the separation of traditional stereo speakers and it can't really capture the bouncing left/right sound of Brian May's final guitar solo on A Kind Of Magic. The Core works best at medium volumes, where it's powerful enough to fill a decent-sized room without sacrificing any clarity. It's expensive, but still comparable to multi-room rivals and its compact design and rechargeable battery could seal the deal for people wanting a versatile, high-quality speaker that can be used indoors and out. CJ
PRICE: £479
TELEPHONE: 01491 629629
WEBSITE: massfidelity.com

Read the full review in issue 416

SPONSORED VIDEO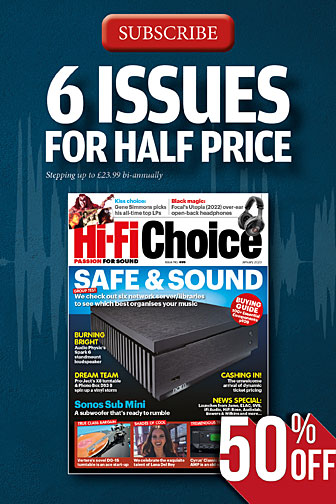 Inside this month's issue:

Six wireless speakers duke it out in our Group Test, Mitchell Acoustics' uStream Go portable Bluetooth speaker. HiFi Rose's RS250A AV streamer, Sumiko's Blue Point No. 3 MC cart and a World Exclusive first test of Q Acoustics' 5000 range