Sonoro Meisterstück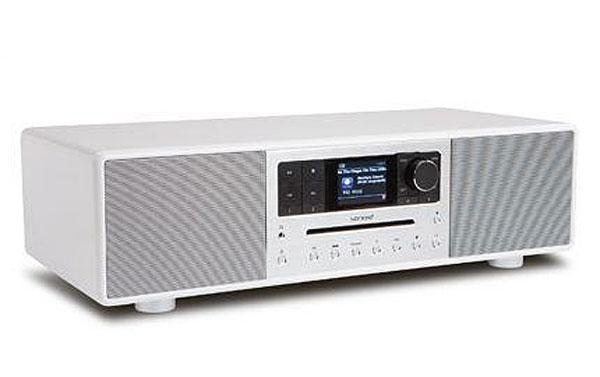 Sonoro makes a pitch for your living room with this versatile music system for all your sources. HFC pulls up a chair
With its 'Smart Line' portfolio Sonoro's aim is to provide a range of loudspeaker systems suitable for use in different rooms around the home, and the Meisterstück – 'masterpiece' – is the top of the range model, designed to form the centre piece of your main music system.
Available in black, white or silver, it houses a full 2.1-stereo system with two tweeters and a pair of midrange drivers that sit on either side of its 70mm control screen, along with a downward-firing bass driver. But that's just the start, as the Meisterstück also includes a built-in CD player and both DAB+ and FM radio, along with 3.5mm line-in, optical input, and RCA in and output. There's a headphone socket on the front panel, but one nice additional touch is the ability to stream music from CD or radio to a set of Bluetooth headphones. And, along with Bluetooth, the Meisterstück also provides wi-fi and Ethernet for connecting to your home network and linking with other Sonoro speakers for multi-room audio.
Having put so much thought into the hardware features, Sonoro oddly seems to have overlooked the need for an app to control all those options. The main control screen does display a list of internet radio stations and provides Spotify Connect for subscribers, but there's no support at the moment for any other streaming services. This means anyone that subscribes to Apple Music or hi-res music streaming services such as Qobuz or Tidal has to rely on the more limited range and bandwidth of Bluetooth. It is possible to use a third-party app called Undok, which (as well as providing multi-room functionality with compatible devices) allows me to stream lossless ALAC music files from my Mac to the Meisterstück, but it has poor playback controls and is also limited to Spotify for streaming services. Sonoro tells us that it is working on a software update to address these issues.
Sound quality
Thankfully, the Meisterstück makes up for its software shortcomings when it comes to sheer sound quality. With five drivers providing a claimed total power output of 140W, it produces an expansive and imposing sound that even at just 60 percent of maximum volume effortlessly fills my room with the delicate a cappella vocal of My Lagan Love by Kate Bush. The Meisterstück avoids the trap of emphasising the artificial reverb too much, focusing simply on Kate's solo voice as it lingers softly in the air.
It can handle heavy rock with equal precision, and is able to carefully separate the grinding guitar chords and keyboards in the sonic mash-up of Planetary (GO!) by My Chemical Romance. There's no distortion even as I ramp the volume up to almost painful levels, and the high-speed riffing in the middle eight remains sharp and precise as the song charges into the final head-banging chorus.
The dedicated bass driver delivers a taut funky bass guitar on Queen's Another One Bites The Dust, while the deep electronic sound of Prime Evil by The Orb has a sinister, sinuous feel that contrasts well with the lighter percussion floating above. There are also bass and treble controls, as well as four EQ presets, so that you can fine tune the sound. Switching to Bluetooth allows me to stream music from Tidal on an iPad – which, to be fair, sounds very good. However, the limited range of Bluetooth quickly proves an annoyance, as the desktop version of the Tidal app on my office computer – which I prefer for its MQA support – can't reach the Meisterstück in my front room.
Conclusion
The Meisterstück is no impulse buy at almost £900, but its impressive sound quality, CD player and radio features will appeal to anyone looking for a versatile mini system. However, the lack a proper wi-fi-capable app of its own remains puzzling, and means that – Spotify aside – you may end up relying on Bluetooth streaming that doesn't fully exploit the system's more advanced wi-fi capabilities.CJ
DETAILS
Product: Sonoro Meisterstück
Price: £899
Origin: Germany/China
Type: Mini system
Weight: 9kg
Dimensions: (WxHxD) 570 x 165 x 262mm
FEATURES
● 2x 19mm tweeter
● 2x 76mm mid/bass driver
● 1x 133mm bass driver
● Input: 1x 3.5mm jack; 1x stereo RCA; 1x optical digital
● AptX Bluetooth; wi-fi
Distributor: Sonoro Audio UK
Telephone: 0115 8240299
Website: sonoro.de/en
Read the full review in June issue 437

SPONSORED VIDEO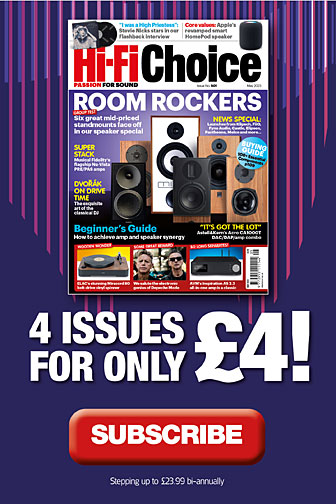 Inside this month's issue:

PMC prodigy1 standmount, Goldring E4 cartridge, Cyrus TTP Turntable, Naim Nait 50 integrated amplifier, Sennheiser Ambeo Soundbar Mini, mid-price DAC Group test and much, much more