Olive O6 HD - £4,600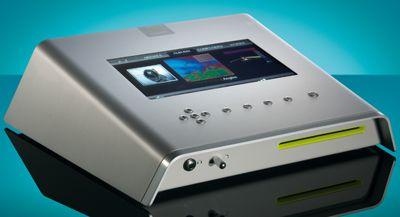 Olive branch
Olive's new flagship hard-disk player brings huge storage and simple ease of use to the masses. Malcolm Steward listens in
The 06HD is the current flagship model in the Olive range of hard-disk music servers. The enclosure is rather idiosyncratic: it is trapezoidal with the CD-drive loader (along with the headphone socket and volume control) mounted on the front, while the sloping top holds all the control buttons and an impressive 10-inch colour touchscreen. This precludes stacking the device or placing it on anything but the top shelf of an equipment rack. In fairness, though, it is highly unlikely that anyone would buy such a distinctive looking component and then hide it away. If they do, they can still operate it with an iPod/iPad/iPhone application.
Original Quality
Fundamentally, the 06HD rips CDs to its internal two-terabyte hard disk, where it stores them for subsequent replay. Olive says the disk will accommodate around 6,000 CDs 'in original quality'. You can virtually double that capacity by storing the CDs in FLAC (Free Lossless Audio Codec) format, which reduces the file size, but does not discard any musical information. The Olive Maestro operating software is happy with FLAC and WAV files, along with the compressed AAC format and the ubiquitous MP3.
Music from the hard disk passes through a pair of TI (Burr-Brown) 24-bit/192kHz PCM 1792s, running in dual-mono configuration – one DAC chip per channel – for conversion to analogue, assuming you wish to use its analogue rather than its digital output. The DAC also includes an ultra-low jitter master clock, an asynchronous sampling rate convertor (upsampling to 24-bit/384kHz) and a second-order Bessel reconstruction filter.
Naturally, it is essential to back-up the music stored on the 06HD, just as one would with any single-hard disk system. This is accomplished through a rear-panel USB port. Obviously, you will need a drive with suffi cient space to hold all your music. You will need a 2TB drive or larger as a backup. Modern versions of Windows will not format this to the required FAT32 format, so you will need a third-party program, such as CompuApps SwissKnife, for that purpose. It is important to have a dedicated drive for this task, as the back-up process overwrites everything on the destination disk. So, do not even think about keeping all your family photographs on the back-up disk as well!
An alternative approach to ripping music on the 06HD is to import rips and downloads from a computer attached to the same network. This process only works with file formats recognised by the Olive. Once the music is present in its import folder, accessed through your web browser, the 06HD then categorises it and organises it into its library. One caveat that Olive points out is that WAV files rarely come with any metadata attached, so import them and you will end up with a host of unknown artists and unknown albums. We'd recommend using dBpoweramp Music Convertor first to encode them into FLAC format, which incorporates Vorbis Comments – as opposed to the inappropriate ID3-Tags used with MP3s.
The 06HD will also play internet radio – provided the player can access the internet – and it can stream music from other computers and NAS drives on the network. Olive recommends storing all one's music on the 06HD, however, and says it only provides 'limited support' to streaming from external sources. We suspect this means they cannot guarantee to solve any problems you might encounter using a NAS, with which they are not intimately familiar.
The unit nonetheless, happily renders music from external stores, each of which uses UPnP servers other than Twonky or TVersity, of which Olive seems to approve.
Audiophile intentions
The company makes frequent mention of the 06HD's audiophile nature. Its specifi cations certainly feature lots of big numbers and its power supply is described as a 'high-precision linear power supply with ultra-low noise toroidal transformer, linear regulators and high-performance AC line filter'.
All of this sounds promising enough, until we spotted a statement in the user manual that recommends connecting the 06HD through a UPS (Uninterruptible Power Supply) to afford it protection against 'power surges and blackouts'. This, in our opinion, is the counsel of a computer professional, rather than an audiophile: our experience with UPSes suggests that they adversely affect the mains supply, do nothing to improve sound quality and are at best avoided.
The 06HD can connect to your network through a wired or a wireless connection: there are no prizes for guessing the one that we chose. Even Olive recommends using wired if you are transferring a lot of material to the device, which implies a lack of trust in wireless.
Other clues disclosing its audiophile intent, include the separate DAC and amplifier to drive the headphone outlet, anti-vibration, two-part polymer feet to help isolate the server from the environment and eight layers of noise-cancelling padding supporting the internal hard disk. We have already mentioned the 24-bit/384kHz up-sampling DAC feeding the balanced/unbalanced analogue outputs.Finally, the Maestro software that controls the player seems a little more responsive in the 06HD, than it did in the 04HD (HFC 333).
First Class
The 06HD doesn't disappoint when playing hi-res fi les. However, some of the music supplied on its hard disk is a little too 'shiny' for our taste: the sound being too high-end and pristine, but rather soulless. Switching away from that to a 24-bit/96kHz version of The Allman Brothers Live at Fillmore East demonstrates that the 06HD is not an emotion-free zone. Similarly, the 24-bit/96kHz rip of Robert Plant and Alison Krauss' Raising Sand reinforces our suspicion that the 06HD can be spirited, drop into a groove and convey feeling, as well as plenty of hi-fi detail.
Playing Art Pepper Meets the Rhythm Section (a 24-bit/96kHz vinyl rip) shows that the 06HD can turn in a fi rst-class performance with decent material: Philly Joe Jones' drumming 'grooves' was replete with texture and dynamic contrast, as is Pepper's luminescent sax playing. Our only reservation is that the sound of the player seems a tad recessed in the high frequencies: not dull, but not sharp enough.
Playing Speed Caravan's aggressive Kiss of Electric Sand brings the matter into sharper focus: the Naim HDX is faster sounding with better defined note-shape, which makes the Olive sound warm and slightly fuzzy in comparison when both played through the same DAC – either the M2Tech Young or the Naim.
Curiously, the Olive sounds cleaner and more transparent through its analogue connection, which seems more musically rewarding than its digital output.
We encountered only one problem with the Maestro software: it refuses to read metadata that is obviously present on some tracks. Then the player decides not to play 24-bit/192kHz tracks off our NAS. We've seen other players misbehave in a similar fashion; usually after a NAS has re-enumerated its listing of folders after a large addition of downloads or rips. None of these situations applies here, but we power-cycled the 06HD, which normally resolves such occurrences and it returned to business as usual.
High end heaven
The Olive 06HD is a machine whose performance leans more towards the American high-end style than that of the UK. Someone who favours the latter might fi nd the sound a tad sterile and soulless, but if a high-end presentation is your thing, you will not be disappointed.
If you are the 'fit it and forget it type' and are not bothered about'getting under the bonnet' then Olive's Maestro software will appeal. If you want to manage your music files the way you do those on your PC, then store them on a NAS rather than the 06HD's internal drive.
LIKE: Decent musical performance and simple, straightforward operation
DISLIKE: The Maestro software can be something of an acquired taste
WE SAY: Better suited for someone who wants a simple hard disk, rather than the hardcore audiophile

PRODUCT:
Olive 06HD
ORIGIN:
USA
TYPE:
Music server
WEIGHT:
7.5kg
DIMENSIONS:
WxHxD:
440x120x360mm
FEATURES:
• HDMI connection
allows navigation
through a TV
• IR input
• No support for
ripping SACD
or DVD-A
• Burns CDs and
playlists to CD-R
DISTRIBUTOR:
Henley Designs
TELEPHONE:
01235 511166
WEBSITE:
olive.us.com

SPONSORED VIDEO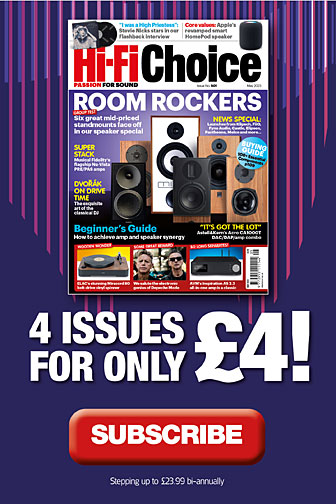 Inside this month's issue:

Wison Audio's exquisite Sasha V floorstanding loudspeaker, Origin Live Sovereign S/Agile turntable/tonearm, Final Audio ZE8000 true-wireless earbuds, Astell&Kern AK PA10 portable headphone amp, Aretai Contra 100S standmount speaker and an integrated amplifier Group Test