Ruark R7 - £1,999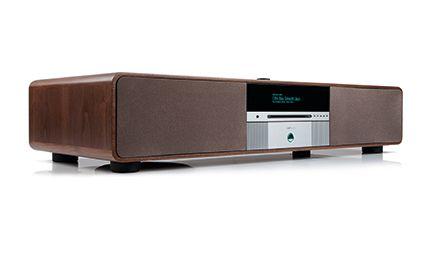 All-in-one systems are popular again. Can Ruark's R7 catch Adrian Justins' ears as well as his eyes?
Ever since it was formed in the mid-eighties, Essex-based Ruark has moved with the times. To meet the growing demand for multi-channel in the nineties the company expanded from its original portfolio of stereo speakers, then in the last decade it launched its Vita Audio sub-brand of digital radios. A couple of years ago the decision was made to cease the production of passive speakers and concentrate on making radios. At the same time the name Vita Audio was killed off with Ruark returning as the brand name under which all the company's products were sold.
While audio purists rightly baulk at the idea of DAB because of its inferior sound quality, the operational convenience it offers and increased number of stations compared with FM and AM means DAB is massively popular. Additionally, the ability to play music from iPods and the like has also created a strong demand for speaker docks and streaming devices. It's a good time to be in the digital game, especially for Ruark, which operates towards the upper end of the market.
On the coat tails, then, of a slew of stylish and successful radios and speaker docks, the R7 is Ruark's most ambitious – and expensive – radio product yet. It combines DAB and FM tuners, CD-quality aptX Bluetooth, DLNA network streaming, internet radio, CD playback, auxiliary analogue and digital inputs and a 2.1-speaker configuration in one beautifully crafted unit the size of a saxophone case. The R7 is the reinvention of the radiogram, especially when mounted on its spindle legs (it also comes with puck feet), combining cutting-edge audio technology with yesteryear looks that wouldn't look out of place in Mad Men Don Draper's Manhattan pad.
The R7's retro design turns more heads than Beyoncé in a bikini, but as a piece of furniture it may struggle to find a suitable spot in the modern home where huge TV screens have ousted the laughably small CRTs of yesteryear. One option is to place a TV screen on the R7's surface and use the radiogram as a soundbar, thanks to its digital optical audio input. Ruark MD Alan O'Rourke told me that the company is developing a TV mounting bracket that will elevate a screen above the R7's top surface and provide a shelf beneath the base for housing a PVR or Blu-ray/DVD deck.
The R7 is manufactured to an uncompromisingly high standard with a furniture-grade walnut cabinet providing a solid housing. The aluminium and glass fascia is pleasing on the eye with small buttons for selecting the source, controlling playback and navigating the menu. Either side of the CD loading slot and display window are the 5.5in dual concentric drivers, while an 8in long throw subwoofer is located on the underside.
The rear side's metre-long panel has more than enough acreage to provide clutter-free sockets including dual RCA phono line inputs, a Toslink optical, S/PDIF coaxial and a handy USB socket for charging mobile phones and tablets. Two 75ohm F-type inputs are provided for DAB and FM aerials.
The remote control, which can be stored in the ashtray-like cavity on the top surface, is designed with a solid, flat underside, allowing you to operate it with one hand when it's on a table top or other flat surface. The remote is laid out to look like a dial with well-sized buttons surrounding the central volume knob. It's nicely responsive and feels perfectly weighted and because it uses RF rather than IR, it doesn't require line of sight.
As you'd expect for a £1,999 product, Ruark has turned its back on Class D amplification and under the hood is 160W power supply coupled to linear Class A-B discrete component amplifiers. The R7 doesn't just wind back the clock in terms of amplification and design, it also takes as long to power up as a fifties Decca TV or your granny's first kitchen radio.
Non instant gratification aside, it mostly proves a pleasure to own and operate. The fluorescent display boasts four lines of green text on a black background, one of which is a couple of centimeters high and is legible from across the room. This usually displays the station or track name. Enter a menu such as Audio Settings and the number of lines increases, but all of them are too small to see from across the room without a pair of binoculars. The only time this feels like a major drag is when trying to browse through sources such as internet radio stations and tracks from DLNA-connected drives. The easier option is to use the R7 as a Digital Media Renderer (DMR) in conjunction with a compatible smartphone app or Windows Media Player.
Setting up the R7 is logical and intuitive, with a Network Wizard asking all the right questions to take the pain out of the process. Essentially all you need to do is select your router and enter your password.
When listening to a source you can press the menu button to adjust screen brightness and access the equaliser, which consists of treble and bass management, a separate subwoofer setting and a so-called 3D Sound DSP mode. There's also a line input level adjustment, which is invaluable for levelling the volume of each source. The internet radio function usefully provides quick access to local UK stations, BBC stations and podcasts as well as stored favourites.
Sound quality
Although it can't handle DSD I kick things off with the CD layer of The War of the Worlds SACD. Not only is the output surprisingly powerful, but the sonic quality seems so good I have to check that it's the PCM downmix I'm listening to and not DSD after all. Richard Burton's sonorous Eve of War introduction is so rich and detailed you can hear the air drawing into his lungs between sentences and it almost sounds as if he's in the room. When the strings kick in, the R7 reveals its subwoofer is no shrinking violet and its out-of-the-box setting requires a smidgen of attenuation in order to eliminate reverb and optimise the bedrock for the building blocks of the higher frequencies.
The overall musical spectrum is impressive and the cabinet seems immaculately tuned so that there's no coloration. The higher frequencies of the wailing synth and flute are pin sharp and blend wonderfully with the midrange of the acoustic guitar. Overall, the Class A-B amplification delivers an energetic and lively sound that's as cosy as a Martian's heat ray. Sonic steering is good too, with impressive stereo imaging, the various frequencies of the chimes and bells at the start of Time on Pink Floyd's Dark Side Of The Moon, for example, sounding dynamic and shooting off in all directions around the room.
Network streaming includes FLAC and WAV, but is hit and miss with ALAC files, with the R7 able to decode some 24-bit/48kHz tracks, but not 16-bit/44.1kHz. At least it automatically skips unplayable tracks in a playlist. One successful stream in terms of decoding and quality includes the wonderful Hey Laura by Gregory Porter, an iTunes AAC download. His vocals are deep and beautifully rounded, gliding effortlessly in harmony with the tinkling piano and percussion.
Bluetooth streaming from an iPhone is pleasingly reliable and boasts an aural quality that almost matches the unit's CD playback, just falling short in terms of sonic headroom and clarity. With John William's main title theme from Jaws the threatening double bass two-note sting is strong and punchy and you can push the volume to its maximum and still listen comfortably although the sub starts reverberating and the higher frequencies of the percussion and woodwind sound a tad shrill. The radio tuners are well implemented, and the R7 does a commendable job with DAB transmissions, especially fully orchestrated classical music, Beethoven's Pastoral symphony, for example, is detailed and articulate but smooth and balanced throughout the dynamic range as the piece escalates in intensity and diminishes in equal turn.
Conclusion
No audiophiles are going to chuck out their hi-fi separates system in order to accommodate it, but the R7 radiogram reboot is a great deal more than simply an attempt to cash in on the current vogue for retro-looking appliances. On build quality and design alone it goes some way towards justifying that hefty £1,999 price tag (especially compared with some of the designer console tables that are available), but what seals the deal is that it's a real pleasure to operate and, most importantly of all, it delivers a remarkably powerful and pleasing sound.
LIKE: Design; ease of use; clean, powerful sound
DISLIKE: No hi-res ALAC playback or DSD; no app control
WE SAY: Not just a pretty face, the R7 is a worthy reinvention of the radiogram
DETAILS
PRODUCT Ruark R7
ORIGIN China
TYPE All-in-one style system
WEIGHT 30kg
DIMENSIONS (WxHxD) 1,000 x 175 x 400mm (without legs)
FEATURES • CD (CD-Audio, MP3); DAB; DAB+; FM; MP3; WMA; AAC; FLAC; WAV; A2DP; aptX Bluetooth
• DLNA streaming over wi-fi with UPnP
• 2x 5.5in dual concentric drivers
• 1x 8in long-throw subwoofer
DISTRIBUTOR Ruark Audio
TELEPHONE 01702 601410
WEBSITE ruarkaudio.com

SPONSORED VIDEO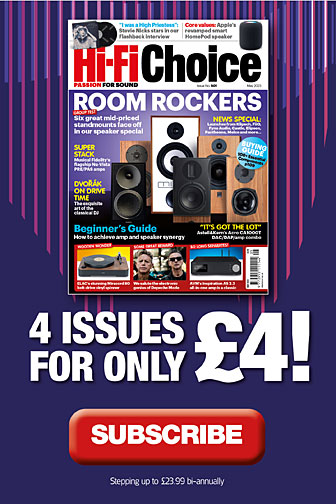 Inside this month's issue:

PMC prodigy1 standmount, Goldring E4 cartridge, Cyrus TTP Turntable, Naim Nait 50 integrated amplifier, Sennheiser Ambeo Soundbar Mini, mid-price DAC Group test and much, much more