Volumio Primo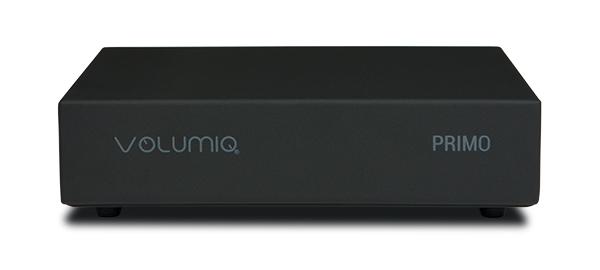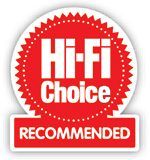 If you are the sort of music lover who has the patience, and skill where building your own music server seems like a logical thing to do, you are already likely to be familiar with Volumio's open-source software. Unlike the playback software options from our recent Group Test (HFC 448), Volumio is a complete operating system designed to be run on devices such as a Raspberry Pi. Primo represents the first dedicated hardware for the platform that's installed on an ASUS Tinkerboard – a single-board computer built around an ARM processor running Linux – and offers hefty decoding horsepower. This has been combined with an ESS ES9028Q2M DAC to enable it to handle PCM audio files up to 32-bit/768kHz and DSD512. It's supported by AirPlay and aptX Bluetooth, making it competitive with similarly priced rivals. Volumio has ensured that the Primo can also be used as a head unit for a DAC. It is fitted with both a conventional coaxial output able to send PCM audio signals up to 24-bit/192kHz while any of the four USB ports on the rear can be used to attach a DAC to send it any sample rate natively.
Available for both iOS and Android (you are invited to pay for both apps) as well as via your web browser by entering the IP address of your Primo, it is fast, stable and reasonably straightforward to use. The caveat 'reasonably' applies because of the large number of menus there are to navigate, meaning this is not really aimed at beginners in network audio. There is no doubting its potential for more experienced users, however.
It is also dependent on plug-ins to deliver Tidal and Qobuz streaming services, putting it some way behind control software such as BluOS –found in NAD and Bluesound streaming components – or Auralic's Lightning DS which all have such functionality embedded and ready to go. The caveat to this is that you can tailor the Primo to do exactly what you want and it offers a degree of customisation that isn't always an option on rivals.
Sound quality
Connected initially via the RCA outputs to a Naim Supernait 2 integrated amplifier and Neat Momentum 4i floorstanding speakers, the Primo springs some surprises from the off. My experience with ESS DACs usually means there's a very definite character to the sound delivery, but this is almost entirely absent here. Stags Bellow by Martha Tilston has an almost liquid quality to its midrange that is wholly engaging. The balance between tonal accuracy and genuine emotion is extremely well judged. You never feel that you're listening to an embellished take on the music, but equally this is more than a simple warts-and-all-style presentation.
Where it does have more in common with other products built around the same decoding is the excellent timing and drive it possesses underpinned by sensational bass. The crunching low end of UNKLE's Ar.Mour is delivered as a force to the chest and even with its relatively slow tempo it feels energetic and exciting. Ask for something faster like Bloc Party's Like Eating Glass and the Primo displays wonderful energy. The rapid-fire drum work positively fizzes with excitement and it's hard not be completely drawn into the music.
Hi-res material also presents no issue and the Primo really reaps the benefits of well-mastered recordings. It thunders through the 24/96 download of Led Zeppelin's Presence with an effortlessness that is unusual for a piece of affordable digital hardware. There is the option to handle DSD natively or via DoP (DSD over PCM) and the former sounds very good indeed with Depeche Mode's Ultra doing a fine job of avoiding any sense of there being hardware present in the process. It isn't possible to do a side-by-side test with Auralic's Group Test-winning Aries Mini (HFC 442), but I think it would be a very close-run thing.
Conclusion
Out of the box, Primo's interface isn't as intuitive as some, but there's no question that if you put some time into its considerable customisation options it is capable of becoming a powerful music management tool. When you consider the flexibility and outstanding sonic performance on offer, the Volumio Primo looks like a very attractive option at the price. ES
DETAILS
Product: Volumio Primo
Price: €479
Origin: Italy/China
Type: Network audio player
Weight: 300g
Dimensions: (WxHxD) 170 x 48 x 130mm

FEATURES
● 32-bit/768kHz PCM & DSD512-capable DAC
● Format support: MP3; AAC; Vorbis; Cue; FLAC; ALAC; WAV; DSD
● Connections: 1x Ethernet port; 4x USB-A ports; wi-fi; AirPlay and aptX Bluetooth; stereo RCA analogue out; coaxial and HDMI digital outputs
Read the full review in June 2019 issue 450

SPONSORED VIDEO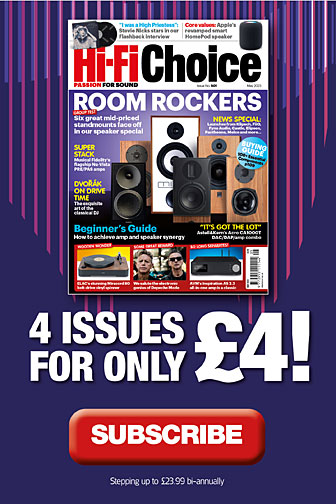 Inside this month's issue:

PMC prodigy1 standmount, Goldring E4 cartridge, Cyrus TTP Turntable, Naim Nait 50 integrated amplifier, Sennheiser Ambeo Soundbar Mini, mid-price DAC Group test and much, much more