Yamaha NP-S303

With a comprehensive set of features, this low-cost network audio player looks like a tempting prospect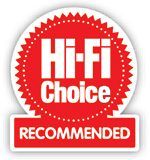 As last month's Group Test of entry-level network audio players showed, the streaming sector is hotting up with a wide selection of easy-to-use players to choose from at some very attractive prices. As if to further demonstrate the growth in the market, Yamaha has introduced its keenly priced MusicCast NP-S303 music streamer that's designed to be an easy network audio add on to an existing hi-fi setup, or to partner with its matching full-size integrated amplifiers as part of a unified system.
We've seen a steady increase in the number of features being added to music streamers recently, and the NP-S303 has an impressive list of facilities for an entry-level model. It can be connected via Ethernet or wi-fi home network connections and supports 24-bit/192kHz music streams and up to DSD128 music files too. AirPlay and Bluetooth (with AAC support) wireless connectivity are also included for streaming from nearby mobile devices. What sets the NP-S303 apart from many rivals is the number of streaming services on offer. It has native support for Tidal, Qobuz and Deezer (including Deezer HiFi), as well as Spotify Connect, Napster and the lesser-known Juke service, plus a comprehensive selection of internet radio stations via Airable Radio.
As part of the MusicCast family of components, the NP-S303 integrates with other networked products around the home (such as the MusicCast 20 wireless speaker on p111), which are all controlled via the MusicCast app to play individual components or group them all together to play music stored on a home network or via a streaming service. It can even send audio sources connected as inputs to other MusicCast components around the home, making it an impressively flexible multi-room system.
Available for both iOS and Android platforms, the MusicCast app is designed to make the control of multiple devices as logical as possible, but works just as well if the NP-S303 is the only streaming component you own. Album browsing is smooth and logical and while the streaming service menus aren't as slick as the services themselves, it is easy to learn any quirks and is stable in use.
Externally, the NP-S303 comes in the same casework as the rest of Yamaha's two-channel range of components and has a pleasingly traditional feel. A full-width unit, it's available in silver and black finishes and the front panel display gives it a useful advantage over the similarly specified WX-AD10 network music player (HFC 442), and provides a constant update of its status. There's a selection of front panel controls to assist system navigation and it comes with a useful handset for full system operation. In a world of app control it might seem odd to still regard this as an advantage, but it brings a greater degree of operation that many users will appreciate. Around the back, are a single analogue stereo RCA, coaxial and optical digital outputs.
Sound quality
Having completed the straightforward MusicCast setup procedure – which, given it is shared by components in the range that don't have front panel displays, has to be completely fool proof – the NP-S303 is entirely stable throughout the review process over both wired and wireless networks. The app doesn't render a music library to the control device you're using, but navigating my relatively large library is quick and smooth. Connected to a Melco N1A NAS drive (HFC 397) and an Exposure XM5 integrated amplifier (HFC 424), the NP-S303 puts in an impressively strong performance.
There is a house sound to Yamaha's products and the NP-S303 has enough character to the presentation it delivers to make it a matter of taste for some listeners. The emphasis is very much on scale, refinement and tonal richness, which means that when you give it material that places emphasis on vocals in particular, the results are impressive. Imogen Heap's Little Bird is delivered with a wonderful, almost organic, warmth and a sense of proportion that does full justice to her gorgeous tone. Helping the sense of scale is a bass response that is impressive for a digital source at the price. The bass output isn't a match for something like Chord Electronics' Hugo 2 DAC (HFC 425), but it never fails to sound weighty and convincing – and this isn't restricted to low-end percussive bass. Take, the lower piano notes of A Fine Frenzy's Almost Lover for example. These have just enough heft to convincingly underpin Alison Sudol's fabulous vocal turn. Of course, if it's percussive bass that you're after, the Yamaha puts in a good showing here too. The enormous force of Orbital's Monsters Exist is delivered with a palpable force to the chest and little in the way of bloat or overhang.
What the Orbital track also shows is that the NP-S303 isn't the most forceful performer going. It never actively sounds slow or muddled, but neither is there the feeling of get up and go available from something like Auralic's Aries Mini (HFC 442). With a little attention paid to the partnering equipment, this is unlikely to be much of an issue but adding the Yamaha to an already relaxed sounding system might result in something that's decidedly lacking in excitement. It is worth noting that these traits seem to stem from the decoding under the hood rather than something more fundamental in the design and as is often the case, the equipment it's going to be partnered with needs to be carefully considered. On the plus side, there's a level of civility that means it's almost impossible to provoke the streamer into harshness or aggression even with poorly recorded or highly compressed tracks, and albums made during the height of the 'loudness wars' like Placebo's Meds are listenable, even if it's not exactly the last word in refinement.
Switching to high-resolution material doesn't fundamentally change the performance, but it does prove impressively able to realise the benefits of good-quality downloads and streams. The 24/96 remaster of Massive Attack's Hymn Of The Big Wheel is a large-scale, confident performance with plenty of space given to vocals that firmly conveys their relationship to the piece as a whole. There are gains to the texture and fine detail in bass notes in particular that are more apparent than the standard 16/44.1 version. DSD sounds good too, and the artfully worked folk of Ragnari's Fort Of The Hare sounds rich and vivid with something of a liquid quality that some DSD material can achieve.
In many ways, the NP-S303's star turn is its performance with onboard streaming services. If you have a Qobuz Sublime+ subscription (HFC 440), this is perhaps the most affordable player I have tested that can really show off the hi-res streaming service's benefits. The 24/44.1 version of Christine And The Queens Chris is wonderfully involving and really helped by the decent bass extension that the Yamaha offers. If your interests and budget don't stretch to a Sublime+ subs tier, Tidal is also a compelling experience and even Spotify sounds commendably detailed and refined.
Conclusion
What Yamaha has created in the NP-S303 is a subtle but effective performer. This is not the sort of product that leaps out of the blocks and grabs you from the first second of playback. Instead, it consistently delivers a performance you will want to listen to long term with the full scope of your collection. Combined with the excellent feature set and possibilities for multi-room use as part of the MusicCast family, the NP-S303 has to be seen as a very capable streamer and a bit of a bargain. ES
DETAILS
Product: Yamaha NP-S303
Price: £330
Origin: Japan/China
Type: Network music player
Weight: 2.7kg
Dimensions: (WxHxD) 435 x 87 x 289mm
FEATURES
● Wi-fi and Ethernet streaming up to 24-bit/192kHz and DSD128
● Outputs: 1x stereo RCA; 1x optical digital; 1x coaxial digital
● Streaming service support: Spotify connect; Tidal; Qobuz; Juke; Deezer; Internet radio
● AirPlay and Bluetooth
Distributor: Yamaha UK
Telephone: 0844 8111116
Website: europe.yamaha.com/en
Read the full review in December issue 443

SPONSORED VIDEO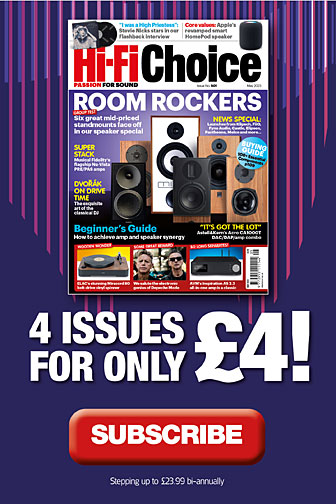 Inside this month's issue:

Wison Audio's exquisite Sasha V floorstanding loudspeaker, Origin Live Sovereign S/Agile turntable/tonearm, Final Audio ZE8000 true-wireless earbuds, Astell&Kern AK PA10 portable headphone amp, Aretai Contra 100S standmount speaker and an integrated amplifier Group Test