Cocktail X10 - £349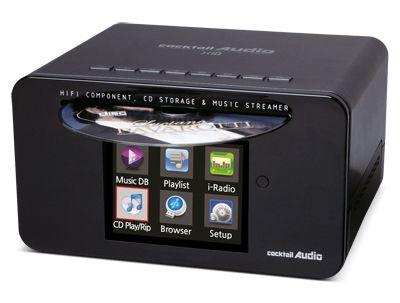 Potent Cocktail
Newcomer Cocktail Audio has a high-value music server that's also high on features. Jason Kennedy remains shaken, however.
The Cocktail X10 is positioned to take on the Brennan JB7, but adds a raft of extra features and considerably greater hard-drive sizes from 500GB to 2TB. It's a compact unit that can rip CDs in a variety of formats including WAV and FLAC. It also streams both wired and wirelessly (with an optional £29 dongle) and can use this connection to stream net radio and music from drives on the network. Alternatively, two USB inputs allow for a simpler set up and to top it all it's an amplifier with a single line input and a 60-watt maker's rating.
Heavily festooned
The Cocktail's 3.5-inch LCD screen looks as if it's touch-sensitive, but the presence of buttons on the case top indicates otherwise; control is achieved with a heavily festooned handset that takes some familiarisation because there are so many features. Ripping to the onboard drive – which can be changed by the user – is pretty straightforward, so long as the unit can find the appropriate metadata. You can put titles in yourself, but it's a slow process. We like the variety of formats it can rip to and the fact that you can choose to do this slowly for quality or quickly for convenience. The net radio is also good, with access to an almost limitless number of stations and an easy system for presetting them to favourites – just one button-press. We're less enthused about the drone of the hard drive, however, which is disappointingly noisy.
Two terabytes
So how does the distributor Selwyn Audio do it for the price? Most obviously it avoids the cost of metal casework. The X10 is a distinctly insubstantial device – the heaviest part is probably the mains transformer that sits in the powerline. However, you can get 2TB of storage for £429, less than the price of 500GB in a Brennan JB7, so it's good value for a FLAC solution. The back panel has plenty of connections, but RCA phono sockets are not among them. Line out is via 3.5mm mini-jack and digital out via TOSLINK. The latter is the path to audio quality, if you have a separate DAC, but this unit is really designed to be standalone and so the springclip speaker terminals need to be used.
Set up is reasonably straightforward, both wired and wireless connections require only a password for the LAN to get going. It's possible to get metadata without a web connection using the FreeDB database, but this will require updating if you rip new releases.
Totally captivated
Once we had got used to the operating quirks of the Cocktail, we listened to its line output which is volume controlled. Being a mini-jack cable, options are limited, but the result is engaging and sufficiently revealing to keep you entertained, if not totally captivated. It's not in the same league as a Squeezebox Touch and we'd be surprised if it outperformed the Brennan's line output, but given the features doesn't do a bad job.
Things are rather less rosy when using the X10's own amp, which lets the side down with an uncannily thin balance and strangely old-fashioned sound. As this is the way that the Cocktail is most likely to be used then its something of an issue.
Drone drawback
We wouldn't expect a unit of this price to produce great sound, but the amp really does let down an otherwise capable design. If this were its only shortcoming, you could hook it up to an amp or DAC to get pretty entertaining results; it does after all play 24-bit/96kHz files and has plenty of storage space for the money. But the drone of the drive is a big drawback and one that continues in standby. Less critical is an apparent inability to play AAC streams on net radio and an inconsistent approach to displaying artwork.
LIKE: Lots of drive space for the money, digital and line out sound
DISLIKE: Constant droning noise, poor onboard amp, plastic case
WE SAY: Impressive storage space, but it's a basic amplifier and noise is a negative

PRODUCT:
Cocktail Audio X10
ORIGIN:
Korea
TYPE:
Music server system
DIMENSIONS:
(WxHxD)
180x98x147mm
WEIGHT:
1.4kg
FEATURES:
• Storage: 500GB
(1TB, 2TB options)
• Formats: MP3,
FLAC, WAV, WMA,
AAC, M4A, PCM,
OGG, M3U, PLS
• Display: 3.5-inch
TFT LCD
• Specified power:
60 watts
• Includes: net radio,
wired and wireless
streaming, iPhone/
Android control
DISTRIBUTOR:
Selwyn Electronics
TELEPHONE:
01732 765157
WEBSITE:
cocktailaudio.com

SPONSORED VIDEO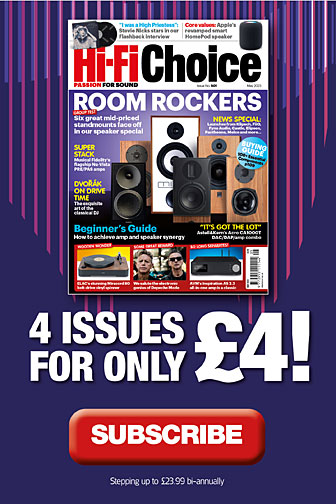 Inside this month's issue:

PMC prodigy1 standmount, Goldring E4 cartridge, Cyrus TTP Turntable, Naim Nait 50 integrated amplifier, Sennheiser Ambeo Soundbar Mini, mid-price DAC Group test and much, much more