Devialet Silver Phantom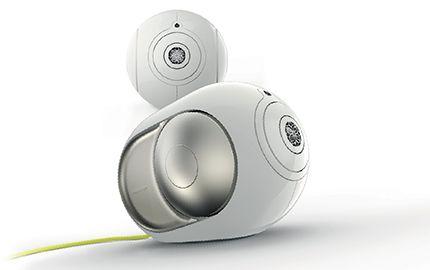 With space-age looks and futuristic tech that can be seen as well as heard, this stereo music system is more gold than silver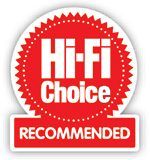 While all-in-one systems come in many shapes and sizes, generally they follow a similar set of conventions with smaller scale woofers, tweeters and amps packed together under the same roof, trading levels of sonic output for greater degrees of convenience. But as we saw with its Ensemble package last year (HFC 386), following conventions is not really the Devialet way.
From the outset the distinctive Silver Phantom's egg-like case immediately challenges your preconceptions of what a hi-fi system should look like. Each one houses its own internal amp, DAC, wi-fi streamer and speakers, allowing it to fly solo as a standalone system or work alongside more Phantoms as part of a two or more channel installation through Devialet's free Spark app and Dialog wi-fi controller (£249). There's also a dedicated remote control (£109) and Branch speaker stand (£199) due for release later this summer, followed by a wall mount and carry case. At £1,690 each, the Silver Phantom's higher £300 price tag gets you a full fat 3,000W internal amp in place of the standard Phantom's already substantial 750W variant.
While the Phantom packs plenty of cutting-edge tech within its wire-free internals, perhaps the most radical part of the package is its air-moving hardware, made up of no less than four drive units, which are cleverly incorporated into its smooth skin. These include the two opposing silver domes flanking each cheek, which act as bass drivers fashioned from 0.4mm thick 5754-grade aluminium. As well as being light and rigid, this alloy is also strong, and it needs to be to withstand much higher pressures than your average woofers thanks to Devialet's HBI (Heart Bass Implosion) system.
The Phantom's HBI-powered 110mm curved white midrange ring that surrounds its tweeter in a coaxial arrangement is harder to spot. Formed from the same type of alloy as the speaker's bass drivers, it's actually 0.1mm thinner in a bid to reduce its moving mass. While the tweeter that sits at its core is a more conventional 25.4mm aluminium dome, recessed behind a fixed metal grille. Both the tweeter and midrange ring are angled upwards at 11.5°, to give a more even sound dispersion says Devialet, especially when combined with the Phantom's sphere-like shape.
The power behind these drivers comes from more proprietary Devialet technology, which begins with its internal amp that's built around the company's firmly established ADH (Analogue Digital Hybrid) topology, which first put Devialet on the map back in 2010. This approach uses analogue Class A voltage amplification working in parallel with digital Class D current dumpers, blending the benefits of a Class A sound with Class D power. For the Phantom's dedicated ADH chip, the analogue stages of each core have been miniaturised, while four channels of ADH amplification allow the Phantom to remain compact yet extremely powerful. The Phantom's chip also incorporates Devialet's Magic Wire typology, which links the DAC (a Texas Instrument's PCM1798 24-bit/192kHz chip) to the amp while keeping noise and distortion to a minimum.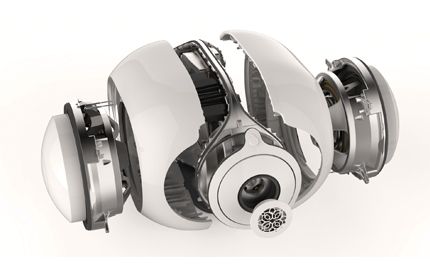 SAM in control
The final link in the chain comes courtesy of Devialet's SAM (Speaker Active Matching), which processes the audio signal in the digital domain ahead of the DAC and power amp, tailoring it to take into account the real-world characteristics of the drive units and their acoustic load across the volume range. What's more, SAM is applied to all of the Phantom's drivers and not just the bass units, as we saw in the Ensemble package.
Unboxing the Phantom you immediately notice just how solid and heavy it feels, weighing in at 11kg, but thanks to an inset rubber base plate it is very easy to site and won't budge when parked. Alongside an IEC mains inlet, physical inputs are limited to a single Ethernet port and S/PDIF (optical) socket. We've also specified a Dialog hub for our review so that we can run two Phantoms in stereo. This also adds a USB-A output alongside its own Ethernet and optical connections.
Getting the party started is largely done in the virtual domain (the Phantom's only physical control is an on/off button) and involves first connecting the Dialog to your router, before downloading the Spark app for desktop and tablet. With the speakers powered up, the app automatically finds them on your network at launch before asking you to touch them in turn to connect.
You then need to identify them within a stereo or mono setup (5.1 and beyond is in the pipeline) by dragging and dropping into 'left', 'right' or 'solo' positions on the screen and watching their bass drivers flex in acknowledgement. You can control up to 24 Phantoms across identified rooms across your home.
Alongside the ability to stream music stored on devices in your network, Spark also integrates with streaming services including Deezer, Qobuz and Tidal with more set for the future as well as Bluetooth wireless.
To play, simply drag and drop albums or songs from selected sources into your central column on the desktop app, or hit the '+' icon on a handheld device. While the app is slick and intuitive, the volume slider can be a tad slow to operate via desktop (a virtual dial would be much more responsive) and I'd also welcome more track info including file type, bit depth and sample rate, to identify the quality of the audio.
Sound quality
Despite its modest size, the first thing that hits you about the Phantom is the surprising scale of its sonics. Planted atop a pair of Custom Design FS 104 Signature speaker stands, positioned 2m apart and 70cm/150cm respectively from my listening room's side and rear walls, the pair of speakers is able to fill my generous 3.4m x 4.5m listening space with consummate ease.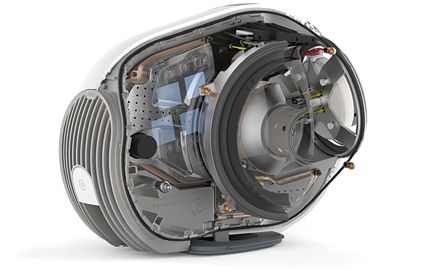 Underpinning the sonic personality is the bass, and it's fair to say that Devialet has exceeded its objective of creating a presence on a much grander scale than a box of this size should allow by some margin. Testing the waters with a 16-bit/44.1kHz FLAC of Little Dragon's Paris via Tidal almost has me checking behind the sofa to see if a subwoofer has been installed while my back was turned, such is the unexpected depths that the bass reaches.
Equally impressive is the start/stop nature of the lower notes, which are controlled and without unnatural overhang. Taking this to the next level with a 24/44 ALAC of London Grammar's Hey Now really gets the Phantom shifting some air, with its silver cheeks beating back and forth like wings as though the unit is preparing for lift off. Placing my hand on the casework with the music in full flight, however, reveals it to be firmly rooted to its stand. And despite the drive units getting a thorough workout that can be seen as well as heard, I can't detect any vibration bleeding into the casework. During listening sessions I regularly call on this track to aid bass tuning, as its lowest octaves can serve to highlight where natural bass extension ends and unnatural boom and/or cabinet resonance begins.
While the Phantom won't put up much of a fight at low volumes when placed close to walls, giving it as much breathing space as possible when winding the wick up pays dividends in terms of bass integration.
Moving on to a 16-bit/44kHz rip of Nick Cave's Abattoir Blues, the Phantom renders the hard-hitting piano notes with enough slam to take me by surprise. Each strike on the ivory keys hangs in the air with all the sinister weight Cave intended, underpinning his understated vocals, which sound dense and rich.
Despite the all-aluminium driver array – a material that can sound harsh when compared with soft dome tweeters and drivers made from non-metallic composites, the Phantom is smooth and free from bright edges, thus toeing it in slightly towards your listening position won't result in over-emphasised treble or sibilance. Having said that, the treble seems less sensitive compared with many speakers and I'm able to get the best out of it by firing the sound straight down the room, which really opens up the soundstage without sacrificing its focus.
Streaming a 16/44 ALAC rip of Björk's Oceania from Medúlla, allows her vocals and the accompanying beatbox backing to be projected around my listening space in a manner that's more akin to a top-spec omnidirectional speaker, than a traditional box design. There's a strong sense of the music not being pushed at you from a vertical plane, instead the soundstage is more three dimensional, filling all corners of my room, which when combined with the smooth treble makes it appear less forward sounding than many, without trading clarity or imaging.
But if this suggests the Phantom possess a laid back character, the rock onslaught of Max Raptor's England Breathes from a 24/96 ALAC download tells me otherwise by sounding edgy and dangerous, without becoming too brash or aggressive as the volume level heads well into double figures. The music sounds raw and untamed, while at the same time my senses don't feel as though they're being pummelled into submission, making for an exciting yet fatigue-free listen. Drums have plenty of impact as they push back deep into the soundstage with a punch that's firmly articulated. With each rapid beat I get a real sense of the power, as the air is sucked from the room ready for the next strike. Nor do the drums get lost or overwhelmed in the mix as the track becomes more congested with layers of guitars and vocals, demonstrating that the Phantom can handle the pressure when the going gets tough. Even though this is the hi-res version, I've known this recording to sound a tad muddy on rival setups, especially the guitars. But with the Phantom doing the honours there's less blurring at the edges of each chord strike than I'm used to, and it is able to get inside the track and unlock the guitar's energy as it pushes each heavy riff across the soundstage.
Conclusion
Despite the lifestyle branding, the Silver Phantom is a genuine hi-fi proposition that's firmly rooted in high-end audio. What's more, as a complete music system that comes fully loaded with Devialet's latest technology and wi-fi streaming to boot, it's also exceptional value, especially given you could start with a single unit and add a second Phantom as funds permit. And pair them up you should, as being configured in stereo takes them up to the next level in the audio stakes, with a sound that's open, full bodied and blessed with a bass quantity and quality that really pushes the boundaries of what you'd expect from a compact system. AS
DETAILS
PRODUCT: Devialet Silver Phantom
PRICE: £3,629
ORIGIN: France
TYPE: Modular music system
WEIGHT: 11kg
DIMENSIONS (WxHxD): 253 x 255 x 343 mm
FEATURES
● 3,000W internal ADH amplifier
● Internal DAC and wi-fi streaming up to 24-bit/192kHz
● Format support: MP3/AAC/ALAC/FLAC/WAV
● Ethernet and optical inputs
● Configurable for mono or stereo
DISTRIBUTOR: Devialet UK
WEBSITE: en.devialet.com

To read the full review click here

SPONSORED VIDEO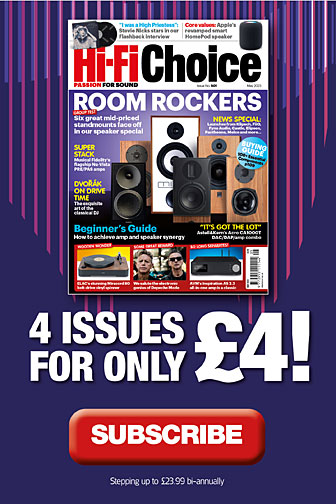 Inside this month's issue:

Wison Audio's exquisite Sasha V floorstanding loudspeaker, Origin Live Sovereign S/Agile turntable/tonearm, Final Audio ZE8000 true-wireless earbuds, Astell&Kern AK PA10 portable headphone amp, Aretai Contra 100S standmount speaker and an integrated amplifier Group Test