Nytech Audio CP132/CPS102/CPA401 - £1,972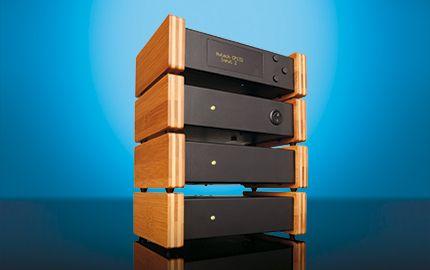 Nytech is back with its new preamp/power supply/power amp combination. Lucky David Price is the first to hear it...
If you're a dyed-in-the-grain hi-fi aficionado, you'll remember the classic Nytech CTA252 receiver as something of a giant killer able to better some far more expensive pre-power amp combinations. It was launched by Richard Hay in the early seventies; a man who had served his audio apprenticeship at Radford Electronics. His company made respected, middle-market equipment for around 15 years.
Phil Balaam was Nytech's original test engineer, and worked closely with Hay, learning every aspect of the company's fine-sounding designs. The new Nytech Audio is based in South Wales and Phil has sourced as many of his components, suppliers and subcontractors as he can locally. The cases are pressed steel, finished in crackle black. The metalwork is done to a good standard and the wood is a lovely touch. Also pleasing is the absence of blue LEDs; instead they glow a shade of classic Nytech green!
The new Nytech Audio system features four separate components – a CP132 control centre/preamplifier (£676), CPS102 power supply (£300) and two CPA401 monoblock power amplifiers (£498 each). The preamplifier is an active design and uses all-discrete components in the audio section, apart from the volume control, which is a digitally controlled audio law attenuator. It also uses a micro controller that can be programmed very simply (it was intended for educational use), so the display can be customised by dealers or customers alike. The source code and information on how to do this will be on the website. The power amplifier is based around a Texas Instruments audio integrated circuit, "one of the best I've ever heard", says Phil. It puts out a claimed 40W RMS per channel into 8ohms and twice that into 4ohms.
Sound quality
Nytechs were always loved for their easy, rhythmic sound that mixed a warmish, smooth tonality with lots of speed, dynamic accenting and energy. The new offering has the traditional sound in a more modern setting, retaining the classic products' 'warm side of neutral' tonal balance, but edging slightly closer to neutral.
Cue up The Flaming Lips' One More Robot, and that lovely, floaty bass guitar work is less amorphous than the original Nytech receiver – or indeed a similarly priced modern rival such as the Creek Destiny 2 integrated. You get a tighter, tauter sound – but still the instrument's warmth is retained. The new Nytech foursome follows the bass player's finger movements with great alacrity; it's very well resolved and you can hear the leading edge of the note in a way that surprises for a £2,000 amp.
A promising start then, and things only get better. The combo's midband is wonderfully open and explicit, offering up an outstandingly wide and deep soundstage. Where the Creek integrated is nicely spacious, the Nytech goes further and pushes way out beyond the physical boundaries of the speakers, and hangs the elements of the mix in space much more assertively. The whole recorded acoustic opens up like a picture book, and you find yourself easily able to focus on individual strands of the music. This is a clever trick, one you don't see at this price very often. Perhaps it's down to the physically separate dual mono design, but it sounds far more spacious than is expected. It shows the fine clarity of the amp, as it lets the listener dig right into the mix.
This doesn't come by virtue of a bright, overly explicit tonality, though. It's rare to hear great amplifiers able to sound apparently very open and detailed, yet not tonally forward – and the Nytech combo is one of them. Isaac Hayes' excellent cover of Fragile shows these four little boxes to be highly revealing. Everything is held in perfect proportion, the soundstage is again vast, and the different instruments in the mix are clearly resolved with excellent timbre. I love the way it accurately tracks the musicians' dynamic accenting, meaning the sound is never flat or disinterested. You often find highly detailed, open amplifiers are rather analytical and enthusiastic, bubbly performers lacking in clarity.
For something rated at a mere 40W per channel, this combo doesn't half go loud gracefully. Through my reference Focal 948s in a largish room, that wonderful walking bassline from Michael Jackson's Billy Jean gets the feet tapping and stays clean pushing up to really high volumes. Treble is crisp, with a good deal of atmosphere. It is more incisive than most amplifiers at the price, showing more air and space to Kate Bush's Snowflake. I find the piano work particularly convincing here, with sparkling harmonics accurately rendered, while Kate's voice has fine body and texture.
Conclusion
The CP132/CPS102/CPA401 isn't perfect, of course; pitch it against a really good £4,000 amp and its sound is a little less gutsy and there's a slight opaqueness to the midband that you won't get from a truly high-end design, as if a thin veil is present. You can also discern a slight sense of brittleness in absolute terms; but this also goes for most mere mortal amplification, and the Nytech combo is by no means the worst offender. In fact, taking into account its price, this is surely one of the strongest affordable audiophile amplifier packages around.
Straight out of nowhere comes this characterful combination, offering a really strong sound. There are virtually no rival pre-power amps to compete here, so the Nytech will prove a thorn in the side of a number of high-end integrateds. Visually it's a quirky and charming little package, and the sound continues the theme, proving immensely likeable and offering a taste of the high end at mid-fi prices. Lest we forget, this is precisely what the original Nytech did all those years ago.
LIKE: Strong, spacious, engaging, open and musical sound
DISLIKE: No matching wooden remote controller, yet…
WE SAY: Charming, effective and affordable amplifier package
DETAILS
PRODUCT Nytech CP132/CPS102/CPA401
ORIGIN UK
TYPE Pre-power amplifier
WEIGHT 1.2kg (CP132, CPS102), 2.2kg (CPA401)
DIMENSIONS (WxHxD) 206 x 70 x 160mm
FEATURES
• 2 x 16 character OLED display (CP132)
• 4x RCA line-level inputs (CP132)
• Toroidal power transformer (CPS102)
• Claimed power output: 2x 40W RMS (8ohms)
DISTRIBUTOR Nytech Audio
TELEPHONE 02920 026176
WEBSITE nytechaudio.com

SPONSORED VIDEO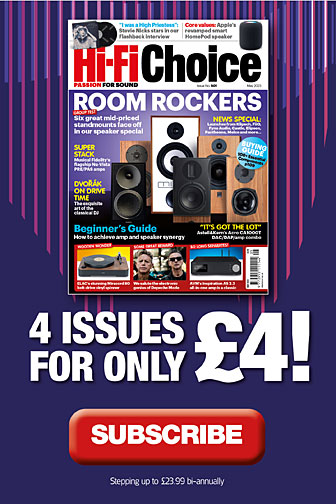 Inside this month's issue:

Wison Audio's exquisite Sasha V floorstanding loudspeaker, Origin Live Sovereign S/Agile turntable/tonearm, Final Audio ZE8000 true-wireless earbuds, Astell&Kern AK PA10 portable headphone amp, Aretai Contra 100S standmount speaker and an integrated amplifier Group Test