Parasound Halo P5 - £999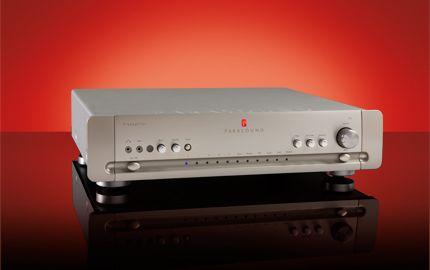 In today's preamplifier world, you've got to be all things to all men - and Parasound's P5 attempts precisely this, says David Price
A preamplifier's life is not a happy one. In the olden days, when mammoths roamed the wild planes and Duran Duran were at number one, its job was clear. A preamp sat in front of the power amp, because without it there was no way of getting music from your sound source. Music came from vinyl, and its meagre output was such that plugging it directly into a power amplifier would have produced all the power, as Captain Blackadder once said, of an asthmatic ant.
Nowadays though, we have phono stages that can provide a line-level output from LP records, and of course CD players and DACs give one automatically. Many examples of either have built-in volume controls, therefore bypassing the need for a preamplifier completely. Suddenly the poor preamp is having an identity crisis, with many audiophiles questioning the need for one at all!
To add insult to injury, the best sounding preamp is no preamp. This means a lot of people bypass theirs completely, or use simple passive types. These don't always sound as good as active ones, so there's now a movement towards transformer types. Again, this takes people ever further away from the active electronic types of yesteryear...
Parasound's Halo P5 has a job on its hands then. It is a fully spec'd design, that's not too dissimilar visually from the big American and Japanese models made at the end of the seventies. It sports a wide expanse of brushed aluminium on its fascia, plus lots of knobs, buttons and sockets. It's as if Parasound has rejected the fashion for sparse, often passive, designs and gone back in time to the days when the preamp was one of hi-fi's big beasts.
To reassert its identity even more, to its five line-level RCA inputs you can add a full moving magnet and moving coil (with 100ohm or 47Kohm load) input, and a built-in digital-to-analogue converter. A Burr-Brown PCM1798 DAC chip is fitted inside, hooked up to a choice of USB, optical and coaxial inputs. The former runs up to 24-bit, 96kHz resolution and the latter 24/192.
The features just keep coming. It sports an analogue bass management system with high and low pass crossovers, a home theatre bypass input for surround sound integration. a front panel subwoofer level control, and a front panel auxiliary input with automatic +12dB gain stage. You also get defeatable bass and treble controls, headphone jack, fixed-level record output and even the option of snazzy rack mounting handles. It's fair to say then that this is a lavishly equipped preamp with everything but the kitchen sink thrown in. Parasound's Richard Schram calls it, "a veritable Swiss Army knife", and he's not wrong.
Inside, carefully selected parts are used, including a motor-driven ALPS volume control potentiometer. Attention is said to have been paid to the power supply – an over specified and very low impedance 65W affair is used, as seen in the company's P 7, 7.1-channel analogue preamp. Low-noise parts are specified across the board and there are seven carefully laid out circuit boards. Burr-Brown's PCM1798 DAC is specified because it is "proven workhorse that is incredibly reliable and sounds great", according to Parasound. Some won't like the fact that it doesn't run 24/192 via USB, but this was done to obviate the need for the installation of PC drivers, "adding a level of complexity we simply did not want" according to Schram. The company says that all incoming jitter on the digital inputs is significantly attenuated with an effective clock recovery system.
The unit is very well finished throughout, considering it's a sub-£1,000 preamp, phono stage and DAC in one. Those expecting Krell build will be disappointed, but more sensible sorts will feel it to be decently built. The slightly insubstantial painted steel top plate is just a little lacking in damping, and the plastic end cheeks let the otherwise lavish brushed aluminium fascia down a touch, but you've got to remind yourself this isn't a high-end device. Rear socketry is solid, and front controls move smoothly. The P5 will drive any power amplifier, but the company recommends its own A 21 and A 23 as ideal mates.
Sound quality
The P5 is basically a nicely balanced device, offering a detailed, precise sound that is well extended at both frequency extremes. It takes a neutral – and in absolute terms slightly dispassionate – look at the music, and lets it play with minimal interference. This is, of course, exactly what a good preamplifier should do.
Cue up some classic seventies disco, such as Sheila B Devotion's (nee Chic) Spacer, and you're presented with
a clean and open sound, the P5 seemingly going out of its way to throw up as much detail as it can, and string it together in a cohesive way. The track is well recorded, with some beautiful female vocals and a big, sumptuous bass. The Parasound doesn't hide this, and is particularly impressive (considering its price) at conveying the grain and texture of the singer's voice. It doesn't thin it out unduly, or strip it of its subtlety. The result is an intimate feel to the song, which is just as it should be.
Meanwhile, the wonderful lead guitar of Nile Rodgers and Bernard Edwards' bass dance together, beautifully syncopated. While not the most riveting thing to listen to ever made, the P5 is certainly no slouch at rhythms. Indeed it has a well balanced, quietly confident sort of nature that never trips over itself when making music, no matter how frenetic it gets. Spatially, this preamp is good too – while it's not totally TARDIS-like in its breadth, it does have a usefully wide soundstage that fills the room with ease, and instruments are tightly located within. In absolute terms, you'd want more depth, but still at the price it's about as good as you could hope for a device of this type.
Switching to its internal DAC, and again the preamp does a decent job. Compared to a high-end DAC through its line inputs, the P5's own converter obviously isn't as good – it's a little tonally thin and lacks dynamics and rhythmic drive – but it still does very well as a £300 DAC (which is effectively what it replaces). You get a tidy and detailed sound, with surprisingly good texturing from massed strings in Beethoven's Pastoral Symphony, for example. It has a taut bass, and a nicely spacious and smooth treble, giving the impression that is a lot more than a cheap DAC chip thrown in at the last minute for convenience's sake. Whether via USB, coax or optical, it's an effective extra input and adds real value to the P5. For example, Arcam's irDAC outperforms it, but nowhere near enough to justify spending out that extra £400.
The other part of the Parasound's purchasing proposition is its phono stage, and again this is good, holding its own against the sort of thing you can buy separately for £200 or so. It sounds much as the line inputs do, being clean and detailed with an enjoyable and expressive nature. Freeez's Southern Freeez is great fun, the P5 really carries the track's relaxed, warm and carefree sound, reminding me of the brilliance of this tune. Ultimately it lacks detail and finesse, but there's absolutely no sense of it being a cheap, last minute addition. It brings useful extra functionality, and will happily work with a turntable of the calibre of a Michell GyroDec, for example.
As a package then, the phono stage, DAC and line inputs of the preamp are well balanced and don't overshadow one another too much – although the line side of the Parasound is the most impressive by a meaningful margin. Its clean, crisp sound epitomises a well designed solid-state preamplifier, one that is devoid of noise and has no unusual quirks. Even when run through a high-end power amplifier, the P5's couth and refined sound doesn't let the show down, even if it doesn't quite set pulses racing.
Conclusion
On its own, as a £1,000 preamplifier, the Parasound P5 is very good, but not great. It is a substantial step up from the preamp sections of your average £500 amplifier, but doesn't offer a revelatory sound all the same. However, factor in the DAC and phono stage – and the fact that they don't disgrace themselves in the company of the line inputs – and you effectively have an excellent £300 preamp, £300 DAC and £300 phono stage in one box. This then makes the P5 a rather nice product, and really keen value too. If you're looking for a 'Swiss Army Knife' of an audio product, this won't disappoint
LIKE: Smooth, open sound; features; versatility; build
DISLIKE: Faces tough competition
WE SAY: Fine-sounding preamp that's a jack of all trades
DETAILS
PRODUCT Parasound Halo P5
ORIGIN USA/Taiwan
TYPE DAC/preamplifier
WEIGHT 6.3kg
DIMENSIONS (WxHxD) 437 x 350 x 105mm
FEATURES
• Burr-Brown PCM1798 DAC
• 5x RCA phono line inputs
• 1x balanced XLR input
• MM/MC phono stage
• Digital inputs: coaxial, optical, USB
• 2.1-channel operation with subwoofer output
DISTRIBUTOR WESCO
TELEPHONE 0161 7679043
WEBSITE parasound.com

SPONSORED VIDEO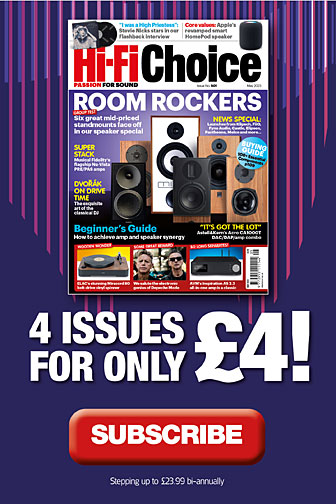 Inside this month's issue:

Klipsch R-50PM powered loudspeaker, DS Audio Grand Master Extreme cart, Astell&Kern A&futura SE300 portable music player, Elipson Legacy 3230 floorstanding speaker and our round up of the best music streaming services