Parasound ZCD/ZPRE2/ZAMP - £400/£400/£350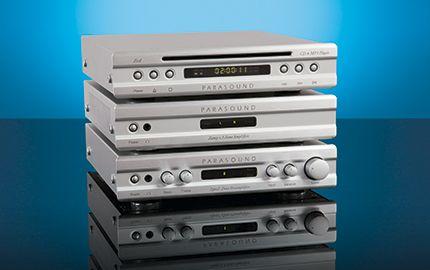 Parasound has launched its new Z Custom Series audio units designed for the home. Neville Roberts checks it out
For those that love music, there are going to be times where you want to hear it in other rooms apart from the listening room. One solution is to have extension speakers wired up to the main system, but that means running speaker cables everywhere.
It also means having your system running full tilt when all you want is some background music in your kitchen. A better solution is a completely separate, standalone system that doesn't take up too much space and won't break the bank. Enter the Parasound Z Custom Series.
The series comprises a range of ultra-compact audio separates that enables a complete system to be assembled to suit your requirements. The units reviewed here can form the basis of a good quality CD-playing separates system that can be added to if requirements change in the future. The units are the Zcd CD and MP3 player, the Zpre2 preamplifier and the Zamp stereo power amplifier.
The silver finish is for home use but black pro versions are also available. They have automatic control features that allow them to be left plugged in and run in standby mode when no audio signal is present, thus requiring a minimum of manual control.
Starting off with the meaty end, the Zamp power 'Zone' amplifier claims to deliver up to 60W RMS into a 4ohm load – more than enough for a domestic living room. If, however, only mono operation is required, such as in a public area, the Zamp can be switched to bridged mode enabling it to deliver 90W RMS into a single 8ohm loudspeaker. Note that the amplifier can only drive an 8ohm speaker or higher when bridged.
The Zamp can be turned on manually via a push-button switch on the front panel, or automatically either via a 12V trigger input or when the amplifier detects an audio signal on the left or right channel inputs. The 12V trigger signal can be supplied from the preamp, which allows for remote turn on via a remote control if required. The amplifier has a 3.5mm headphone socket on the front panel for personal listening without disturbing others.
There are also individual gain controls on the rear panel. This permits adjustment of the Zamp to suit a wide range of inputs from devices other than the Zpre2 in order to minimise background noise – a process known as 'gain staging'. This may be of use in a more commercial environment when the amplifier has to interface with other feeds, including public address systems.
The next box to consider is the Zpre2 Zone preamplifier, which forms the heart of the system. This unit is supplied with a remote control for controlling the preamp inputs, volume and various operating modes. It can also control other devices connected to it via the 12V trigger signal. The 'zone' feature allows the remote to be paired with one Z Series system without interfering with another system in the vicinity – useful if you have more than one system in a public environment. Four different zones are supported.
The front panel has all the usual array of manual controls, including bass, treble, volume, balance and a push-button input selector. The Zpre2 has four line-level inputs, with input 1 having an optional Priority Auto Select feature. This allows the Zpre2 to switch over to input 1 whenever it detects an audio signal on that input. It also selects the video 1 channel at the same time, allowing the preamp to automatically switch to a DVD player, tuner or satellite receiver in a bedroom, for example. The preamp also has a 3.5mm headphone socket on the front panel.
The rear panel has the four sets of gold-plated RCA phono sockets for the audio inputs, along with two video inputs and video output. Two audio outputs are provided – one at a fixed level (useful as a record output) and the other variable for connection to the Zamp. There is also an RS232 DB9 serial port connector to allow computer control of the Zamp's power, input and volume – nice!
Completing the lineup is the Zcd player with MP3 playback. This is supplied with a similar remote control to the Zpre2 with the same array of features, including the trigger output, RS232 control and fixed/variable outputs. It also sports coax and optical digital outputs for connection to a DAC, such as the Parasound Zdac that is available separately. In addition, the Zcd has a USB socket that will accommodate a USB memory stick for playing MP3 files. Note that only the MP3 format is supported, so WAV, WMA, FLAC etc files will not work with this device. MP3 files can also be played from a CD-R. A particularly useful feature is the ability to navigate MP3 files on the Zcd via a television screen connected to the video out. The front panel has the usual track display and basic CD controls. The CD mechanism is a neat slot at the top of the panel, rather than a slide-out tray.
The three components can be stacked elegantly to make a very smart domestic system, or can be configured to fill two 1U rack spacings (such as in a computer patch-panel cabinet). Suitable brackets and blanking panel are available separately.
Sound quality
After connecting up the three units to each other and to my loudspeakers, I post a CD of Vivaldi Violin Concertos Op.6 into the Zcd, set the bass and treble controls to the mid position and press the play button. There is certainly plenty of volume available and I have no problems filling my listening room with sound from my floorstanding transmission line loudspeakers. The Parasound system delivers a full sound that is clear and easy on the ears. The strings do sound a little squeaky at times, particularly during crescendos, but on the whole, the system gives a very convincing performance across the spectrum.
Not wishing to give the Parasound an easy ride, I next insert a CD of Cecilia Bartoli (The Vivaldi Album) for some extreme vocal excursions. I must say that it performs surprisingly well and some of Cecilia's vocal gymnastics certainly have me sitting up and listening!
Moving to something a bit more modern, Gordon Giltrap's guitar playing on Airwaves (La Cooka Ratcha) produces a very open performance on the Parasound. However, the guitar is a little set back into the accompaniment making the sound a tad two-dimensional and there is evidence of bass roll off at the very low frequencies, but this is not out of keeping with any system at this price point.
For some jazz, I first listen to the Oscar Peterson Trio playing You Look Good To Me. The melancholic opening sequence on the solo piano is quite moving and captivating and when things liven up later in the piece, I enjoy the musicality and excitement. I am left with a feeling that the Parasound seems more at home with this style of music. This is confirmed when I play a new recording of Nigel Kennedy's Recital. The Fats Waller track I'm Crazy 'bout My Baby has all the magic that is reminiscent of Nigel's past mentor Stéphane Grappelli playing with Django Reinhardt and The Hot Club of France. I find myself transported back to the atmosphere of a smoky French café in the forties. Not bad for an ultra-compact system.
Michael Kaeshammer's rendition of Sunny Side Of The Street from Tell You How I Feel is stylish and tuneful, although if I were to be hyper critical, it doesn't grab me quite in the way that I know it can. The bass line on Wailing Wall from Runt: the Ballard of Todd Rundgren, although extremely pronounced with this recording, is a bit tame all things considered. However, this bass never seems to interfere with the female vocal line, which is a definite plus point.
Conclusion
It can certainly be said that the Parasound is feature rich. There are so many functions and options that have been crammed into these units that have clearly drawn on the technology and experience from several decades of Parasound's full-size Halo products. There are several upgrade path options that are not usually available with compact systems. These include the aforementioned Zdac, the Zphono phono stage and for those wanting a multi-room setup, there is the Zamp Quattro four-channel power amplifier.
The components of the Parasound Z Custom Series are really well made and have got the styling just right so they will fit in well in both domestic and business environments. The controls are simple and well laid out with all the more technical stuff consigned to the rear panels. The controls on the remotes are set out well and can easily be used by anyone who is familiar with such things.
Sound-wise, the quality is par for the course for a system of this type and will be very satisfactory as a second system, driving some bookshelf speakers in the dining room, kitchen or bedroom. Being a separate system, the configuration is extremely flexible and expandable, which is a real winner and sets it apart from much of the competition.
LIKE: Feature-rich range of products
DISLIKE: Bass a little rolled-off in the lower registers; a slightly squeaky top end with some material
WE SAY: A flexible and adaptable compact separates system
DEATILS
PRODUCT Parasound Zcd, Zpre2, Zamp
ORIGIN USA
TYPE CD player, preamp and power amplifier
WEIGHT Zcd: 2kg; Zpre2: 2.1kg; Zamp: 3kg
DIMENSIONS (WxHxD) All models: 241 x 40 x 254mm
FEATURES
• Digital and analogue outputs
• MP3 file support via CD-R and USB memory stick
• Auto power on/off feature
• Auto input select
DISTRIBUTOR SAV Distribution
TELEPHONE 0843 289 7195
WEBSITE sav-distribution.co.uk

SPONSORED VIDEO
Inside this month's issue:

Our bumper collection of the best kit to pass through the HFC test lab over the last 12 months is here to help you pick from essential turntables, speakers, amps, DACs, streamers, DAPs, headphones...
Standout tracks from our
Music Reviews
section, plus our current favourites to play in the
HFC
office.