Oppo HA-1 - £1,099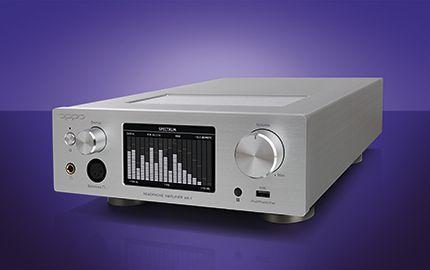 Ostensibly, Oppo's new HA-1 is designed to partner its superb PM-1 headphones, but it's so much more than this, says David Price
Who would have thought it? Obscure manufacturer of decent Chinese optical disc players starts spin-off company (Oppo Digital Inc.) in California to make high-quality hi-fi products. It's not a typical tale of hi-fi success, but the story is getting ever more believable with every product launch. Less than a year after the excellent PM-1 headphones were released, the company now has its own matching DAC/preamp/headphone amp too – in the rather pleasing shape of the HA-1.
Some readers may be familiar with the BDP-95EU (HFC 347) and BDP-105D Blu-ray players. Ten years ago the likes of Sony and Pioneer were championing high-end optical disc spinners, but now that honour falls to Oppo, whose two most recent generations of BD players have been excellent. The HA-1 duly borrows a good deal of circuitry from the BDP-105D including the ESS 9018 Sabre32 DAC and digital filter chip. Although touted as a "high performance headphone amplifier", it actually doubles as a USB DAC, stereo preamp with Bluetooth streaming. In short, it's packed with facilities.
The idea behind the HA-1 then, is to provide a multi-functional digital hub (that also has an analogue input) with an excellent headphone driver stage built in, at a price that's still keen. My time with it suggests that the company has succeeded. Together with the unbalanced analogue input via RCA phono sockets and the balanced XLR audio input, you get coaxial and optical digital inputs, plus an AES/EBU balanced digital input via XLR and an asynchronous USB type-B input. Via this, instead of 'just' 24/192 you can play out 32-bit, 384kHz files, so the Oppo will handle the increasingly popular DXD (24/352.8) format without downsampling. There's also DoP (DSD over PCM), which runs at up to DSD at four times its normal data rate (DSD256 at 11.2896MHz/1-bit in 'native' mode). In short, this product covers a vast range of bases and I know of nothing else on the market that has the same combination of facilities and functionality at its price.
Considering its sub-£1,100 price, that huge range of connectivity options and its tremendous format compatibility, you'd hardly call the Oppo expensive. You could easily lavish £300 on a headphone amp, another £300 on a passive preamp, and a further £500 on a DAC and you'd still struggle to match what the HA-1 provides. Yet the unit is built extremely well both inside and out. Everything gets juice from the generously specified main toroidal power transformer; from this linear power regulators and filters follow with custom-made capacitors.
The half-width casework is all aluminium and of very high quality at the price. It sports a large rotary volume control on the right (via a motorised potentiometer) and a smaller rotary source selector on the left; centre stage is the 4.3in hi-res colour screen. As well as displaying source selection, settings and volume, it also has a choice of display modes from classic VU meters (for seventies hi-fi children), a bar graph spectrum display (for eighties kids) or an information summary (for nineties squares)! There's even a smartphone app, should you not wish to use the supplied remote control. Overall finish is superb, again justifying its price premium over the Audiolab M-DAC. One remark that has to be made, though, is that the Oppo runs very hot indeed, so remember not to put anything on it.
Sound quality
To those who have not yet heard the Oppo PM-1 planar magnetic headphones, you're in for a treat! These are one of the most clear, open and detailed sounding headphones at anywhere near their not inconsiderable price (see p44). The problem is that they aren't the world's most beguiling things to listen to; they have an unerringly forensic nature that sets out to tell you all about the recording and indeed the source you're using to reproduce it, warts and all. Given that most people's front ends are less than ideal, you can sometimes come away with the feeling that the PM-1s need a little more warmth. Well, unsurprisingly, the HA-1 gives just this – you'd never call it euphonic, but it's a generally neutral sounding device that leans ever so slightly to the warm side – especially in the low and mid bass region – and is an excellent match
for the Oppo headphones.
I first audition the HA-1 as an analogue preamplifier via its RCA line inputs, where I find it offers plenty of detail and insight, with a smooth, sophisticated and fairly neutral sound quality considering its price point. Sonically via line in you can do rather better with several all-analogue preamps at this price – the Oppo can sound a little mechanical and opaque by comparison – but then again, the HA-1 packs vastly more functionality in for the money, so it's not strictly a fair comparison.
When you switch in the DAC section, things begin to hot up. Fed by Cyrus CD Xt Signature transport via its coaxial in, the Oppo impresses. 808 State's Pacific State comes over with a surprising degree of bass weight, and oodles of detail. It's easy to hear that trademark ESS Sabre sound; you get a high precision render of the recording, with its many dense layers. It's an explicit rather than a romantic sound, and gives a seat-of-the-pants listening experience. Added to this is that solid bass, which punches things along. Certainly compared with my reference Chord Electronics Hugo DAC, there is more thump to the bass drums and Moog bass synthesiser work.
Moving from using the HA-1 as a hi-fi preamplifier driving a power amp, to using it as a headphone amplifier, and this suddenly makes sense. Plugging the PM-1 headphones in shows how well suited the unit is to the task of driving them. While they are both strong taken separately, together the combination easily surpasses the performance of the two individual component parts. They make a very nice noise with Malcolm McLaren's Waltz Darling – this classic eighties Trevor Horn production opens up and becomes a captivating listen when on some systems it can sound a little murky. The Oppo combination scythes through the mix brilliantly, with a blisteringly fast yet relatively refined rendition of the song. It carries the attack of the electronic percussion in all of its glory, and sounds wonderfully propulsive and fun.
Buoyed by my retro 16-bit experience, it's time to ramp up the resolution with a 24/192 REM track, via the USB input with my MacBook Pro running Audirvana. Texarkana is one of those songs that isn't quite as clean as it first appears, and only a really good hi-res DAC can unlock its full glory and open it up like a flower. The Oppo combination puts things together in an eminently believable and highly enjoyable way. Rhythmically it is very good, making for a powerful and arresting rendition of the song. It does well recreating the recorded acoustic of the studio, setting the band up just a little further back than some headphone amplifier/DAC combinations, making it less in your face but still very well detailed. Again, that solid, strong bass pushes things along with heady aplomb.
In absolute terms, the HA-1 is excellent, but not unassailable. That fulsome bottom end is fun, but it's not quite as lithe as the slightly lighter bass performance of the (touch more expensive) Chord Hugo. Nor does the DAC section have the Hugo's incredible resolution and insight, or indeed its superb rhythm and dynamic tracking ability. It's a very good digital converter, but not quite a great one. The Oppo is certainly better at driving headphones, though, and not just PM-1s – it has serious grunt, and can be configured to drive a wide range of cans from 32 to 600ohms; it's a powerful performer.
Conclusion
Right now, the HA-1 is surely the best do-it-all DAC/preamplifier/headphone stage at the price. It's hard to fault, and makes a wonderful partner for Oppo's excellent PM-1 headphones – with which it works hand-in-glove. However, just as every multi-talented product, some of its talents are greater than others and I would class its ability as a headphone amplifier as outstanding. As a DAC it's good, but suffers strong competition from the £600 Audiolab M-DAC, notwithstanding the latter's lack of DSD functionality. As a preamp, it's good, but not exceptional. An excellent synergistic match to one of the best pairs of headphones on the market right now, if you own the Oppo PM-1 you would be foolish to overlook the HA-1 – and even if you don't, it's certainly something you should try to audition.
LIKE: Crisp, powerful, musical sound; superb build; display
DISLIKE: Runs very hot; DAC not quite as good as the headphone stage
WE SAY: More than just a great partner for Oppo's PM-1 headphones
DETAILS
PRODUCT Oppo HA-1
ORIGIN USA/China
TYPE Class A headphone amplifier/preamp/DAC
WEIGHT 5.9kg
DIMENSIONS (WxHxD) 254 x 80 x 333mm
FEATURES
• Coaxial, Toslink; USB; AES/EBU and Bluetooth digital inputs
• Support for PCM; DSD (DoP v1.1 or native); MP3; AAC
• 32-bit/384kHz ESS Sabre 9018 DAC
• 4.3in fine-pitch colour display
DISTRIBUTOR Oppo BD UK Ltd
TELEPHONE 0845 0609395
WEBSITE oppodigital.co.uk

SPONSORED VIDEO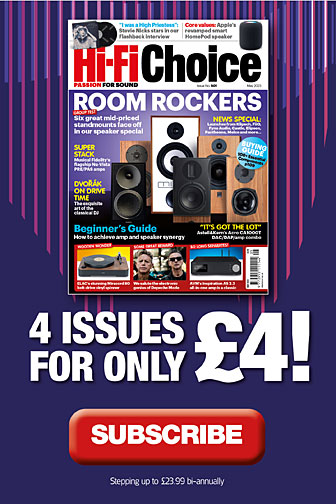 Inside this month's issue:

PMC prodigy1 standmount, Goldring E4 cartridge, Cyrus TTP Turntable, Naim Nait 50 integrated amplifier, Sennheiser Ambeo Soundbar Mini, mid-price DAC Group test and much, much more