Yamaha CRX-N560D - £400
With comprehensive networking this micro system shows that good things can come in small packages, reckons David Holes
If you're looking for a compact, micro hi-fi system that covers all the bases, then the Yamaha CRX-N560D could well be the answer. It's petite in size, but manages to pack a lot of functionality into its rather diminutive frame.
The N560D is a new model in Yamaha's PianoCraft series and comes with an onboard CD player and DAB/DAB+/FM tuners, but its network streaming capabilities are what really sets it apart, greatly expanding your listening options beyond these more traditional formats.
Its Ethernet socket gives you access to the online and networking world, but it lacks the built-in wi-fi I was hoping to see. Unfortunately, this severely limits your placement options and, unless you're planning on sitting it within a cable length of your home router, you're going to need the optional YWA-10 adapter (£90) too. This gives you the missing wireless connectivity that's essential on a product of this type.
Once it's linked to your home network your options are extensive. You can listen to music held on your PC or network storage device (NAS), plus stream material from online sources. It uses the vTuner internet radio service, which gives you access to thousands of global internet radio stations. It's compatible with FLAC/WAV 24-bit/192kHz hi-res material and also features Apple's AirPlay so you can stream your own stored music from your iOS smartphone or tablet. In addition, if you've got the Spotify app on your smartphone you can stream songs to the system using Spotify Connect.
It's a smart-looking piece of kit that's clearly well built, but its svelte size means there isn't room for too many controls. Thankfully, Yamaha has resisted the temptation to overcomplicate things, keeping the front-panel layout pleasingly minimalist and uncluttered, with a large, bright display that's easy to read. Simple twin rotary dials for selecting the input and adjusting the volume sit alongside well-designed push-button playback controls that are easy to find your way around. The only other additions to the front panel are a headphone output and a USB input for quick connection of an iPod, iPhone, iPad or USB stick.
Around the back there's the network connector and DC power output for either the wireless or alternative Bluetooth adapter (YBA-11) that costs £50. You'll also find both optical and coaxial digital inputs for linking to your TV or Blu-ray player, good-quality speaker binding posts, two analogue inputs and a sub output.
The CRX-N560D is reassuringly simple to set up, with decent instructions that take you through the process in a step-by-step manner that gets you up and running quickly. Sometimes configuring wi-fi systems can be an absolute nightmare and I approach the YWA-10 wireless adapter with some trepidation. However, hooking it up to the main unit and getting it to link to my home network is surprisingly swift and hassle-free and I am soon streaming music from my PC and dialling up internet radio stations from around the world.
The remote control is long and thin, but well balanced and sensibly laid out, with reasonably sized buttons that are intuitive to use. You can also download Yamaha's free Network Player Controller app to your smartphone, which gives you the ability to select the audio source and control playback of the tunes you want to hear. It's both iOS and Android OS compatible, works really well and is a delight to use.
The CRX-N560D comes with a trailing wire aerial, but as I often find with these, it's not really up to the job of delivering decent DAB reception unless you happen to live in a really strong signal zone. I live in an urban area with reasonable signal strength, but have to plug in a higher gain indoor aerial to avoid dropouts – it's likely that most owners will have to do likewise.
Having said that, the unboxing and set-up procedure is rapid and straightforward. It only takes me half an hour to have it up and running.
Sound quality
There's no doubt that this micro system is a highly versatile animal. The head unit is available on its own or you can buy it as the MCR-N560D package with a pair of Yamaha NS-BP182 speakers – these two-way units with removable grilles incorporate a 120mm cone woofer and 30mm soft dome tweeter, and use Yamaha's Vibration Control Cabinet Structure (VCCS), which is designed to do away with unwanted cabinet vibration.
I try the head unit with the supplied speakers first and have to admit that I am really rather disappointed. As separate entities they're available for a relatively cheap £100, but unfortunately are a good example of getting precisely what you pay for. They are definitely the weakest link here and, sadly, let the rest of the system down.
Starting off with some classical from Holst's Planets Suite – Jupiter – and some weaknesses are quickly exposed. The introductory strings section sounds scratchy and lacks clarity and the whole movement is uninspiring and lacklustre. Hit the speakers with some heavy rock, such as Black Sabbath's Heaven And Hell, and their lack of bass is woefully apparent too – I know they're only small boxes, but I've heard much better from budget bookshelf models of a similar size.
Listening to stirring, anthemic tracks like Coldplay's Viva La Vida should have the hairs standing up on the back of my neck, but it's a strangely uninvolving experience with the Yamaha speakers in place. It's the same whether streaming hi-res downloads or listening to digital radio – there's something missing. It's not just the lack of bass, but a general mid-range confusion that means the music fails to draw me in.
Swap the packaged speakers for a decent pair of hi-fi speakers and it's a completely different story. I try the system with a pair of the award-winning Q Acoustics Concept 20s (HFC 372) and the transformation is immediately apparent. OK, at £350 plus an extra £200 for the dedicated stands, they can't be described as budget models, but they show what the CRX-N560D is truly capable of when not hamstrung by that crucial, final stage in the audio chain.
I was concerned that the Yamaha wouldn't have the oomph to drive them properly, but I needn't have worried as the 32W (claimed) digital amps are up to the job.
With the Concept 20s in place, the bass comes flooding back and extends down low. Crank up the volume and Black Sabbath's Neon Knights will have you rocking again. The start of U2's Zoo Station, with its growling guitars and punchy drums, can give any system a good workout and the N560D handles it with aplomb.
Annie Lennox's pure vocals on Eurythmics' I've Got An Angel truly soar, without any hint of shrillness. String sections in classical pieces, such as Stravinsky's Rite Of Spring, lose the harsh edge that was all too apparent previously and the whole audio range sounds less hampered and muddled. We know that the Concept 20s are excellent speakers and they allow the CRX-N560D to shine. The wonderful clarity and open 3D soundstaging that they offer is very obvious here, showing that this Yamaha head unit is sonically very capable when partnered with a decent pair of standmount speakers
Conclusion
If you're on the lookout for a compact, high-quality micro hi-fi that can 'do it all' and give you the option of playing music from a wide variety of sources in virtually any format, then the versatile CRX-N560D may provide the answer. It's a well-built unit that's been carefully thought through and for such a multifaceted device it's surprisingly simple to set up and use. Yamaha has got many things right, though the lack of integrated wi-fi is disappointing at the price and it's pretty inevitable that you'll also have to fork out an extra £90 for the optional adapter. But, that aside, I'm mightily impressed by it's performance – so long as you partner the head unit with a decent set of hi-fi standmounted speakers like the Q Acoustics Concept 20s – and you'll have a cracking micro system that will stand you in good stead for many years to come.
LIKE: Compact, highly-versatile system; can sound good with decent speakers
DISLIKE: Lack of integrated wi-fi or Bluetooth without extra cost
WE SAY: Great micro hi-fi that potentially covers lots of bases
DETAILS
PRODUCT Yamaha CRX-N560D
ORIGIN Malaysia
TYPE Micro system
WEIGHT 2.7kg
DIMENSIONS (WxHxD) 215 x 110 x 288mm
FEATURES
• Network streaming
• Optical and coaxial line-in
• FLAC/WAV 24-bit/192kHz compatible
• FM/DAB/DAB+
• USB input for iOS devices or memory stick
DISTRIBUTOR Yamaha UK
TELEPHONE 0844 8111116
WEBSITE uk.yamaha.com

SPONSORED VIDEO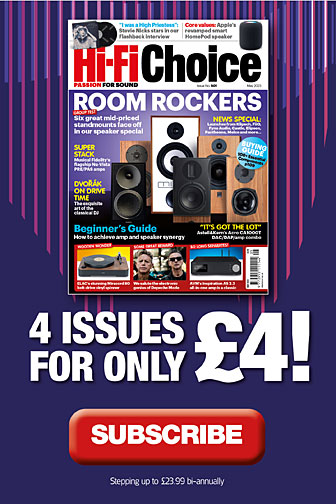 Inside this month's issue:

Wison Audio's exquisite Sasha V floorstanding loudspeaker, Origin Live Sovereign S/Agile turntable/tonearm, Final Audio ZE8000 true-wireless earbuds, Astell&Kern AK PA10 portable headphone amp, Aretai Contra 100S standmount speaker and an integrated amplifier Group Test