Marantz NA7004 - £600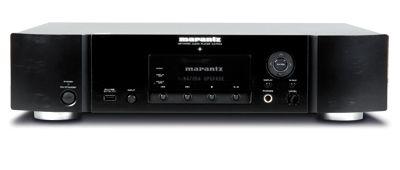 Marantz NA7004
Plenty of streaming functions, but we suspect the inclusion of Apple Airplay will pique as much curiosity
Marantz's take on streaming audio is that it needn't replace more familiar ways of accessing audio and, indeed, the same box can look after new and old sources. Accordingly, the NA7004 functions also as a DAC, a digital radio and indeed an FM/AM radio too, thus covering the gamut of 'streaming' audio right back to the 1920s. As a DAC, it includes both types of S/PDIF input and a USB type B socket, for connection to a computer, which means you can use it alongside a computer that's not on a network.
The USB socket on the front is for media players, including the iPod (and other Apple devices), and the NA7004 is also equipped with Apple Airplay for wireless music replay from suitable Apple players.
In terms of network audio, the usual options exist for playing audio from devices on the network and internet radio is also supported along with Napster and last.fm.
With all those options it's no surprise that the case of the NA7004 is unusually well filled. There's a little module for FM and AM radio, another for DAB and a third for network connection (wired Ethernet only), then a large board for digital stuff and most of the power supply plus a separate, slightly smaller board for the analogue output, which uses Marantz's 'HDAM' discrete-transistor circuits.
One feature we haven't seen elsewhere is the possibility of controlling the NA7004 from a home computer running a web browser, potentially wirelessly (from computer to Ethernet router). The NA7004 has its own IP address, so it's just a question of addressing that. Nifty!
Sound quality
In many ways this seems to offer a classic Marantz sound, which is reassuring. Our listeners spotted the very slightly warm balance and incisive, yet surprisingly laid-back way with detail that many of the NA7004's family members have shown. It's an attractive combination – unless of course your real longing is for the ultimate in rhythm and timing.
Yet even there the results are far from bad. One of the things we found in our sighted listening is that while timing can seem a bit casual at first, after a few tracks one comes to realise that it's actually much better than that, understated rather than actually underperforming.
Perhaps the best aspect of this streamer's performance is its highly cohesive sound, keeping everything in perspective as part of a carefully conceived whole. It managed this across the whole range of musical styles we presented it with, and indeed is very 'music agnostic', seeming just as happy with the drive of a rock band as with the more tender tones of a meditative solo.
It has a delightful treble, only revealing a slight harshness in comparison with a very good DAC, while deep bass is firm and purposeful. The FM tuner deserves praise, too, for a clean and pleasing, if not extraordinarily insightful, sound.
LIKE: Very flexible; well controlled bass; good FM tuner section
DISLIKE: Not the easiest unit to navigate and sound may be a little laid-back for some
WE SAY: A way of accessing music, with unfussily attractive sound
DETAILS
Origin:Japan/Malaysia
Weight: 6.5kg
Dimensions: (WxHxD) 440x106x354mm
Features: • Inputs: Ethernet, electrical and optical S/PDIF, FM, AM, DAB, USB-A (front)
• Outputs: Electrical and optical S/PDIF, analogue (unbalanced), headphone (6.3mm)
• Formats: WAV, FLAC, WMA, MP3, AAC/MP4
• Max resolution: 24-bit/96kHz
Distributor: Marantz UK
Telephone: 01753 680868
Website: marantz.co.uk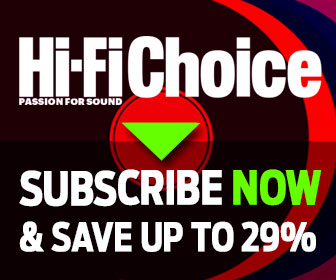 Inside this month's issue:

Hegel's V10 phono stage, iFi Audio Diablo DAC/headphone amplifier, VPI Prime 21+ turntable, System Audio's Legend 5.2 Silverback standmount, high-end headphones Group Test and much, much more...
Standout tracks from our
Music Reviews
section, plus our current favourites to play in the
HFC
office.